This post is part of a social shopper marketing insight campaign with Pollinate Media Group® and Snyder's-Lance Inc, but all my opinions are my own. #pmedia #Pop4Spirit http://my-disclosur.es/OBsstV
The back to school routine can take some settling into. As our little ones get bigger they become busier too! More homework and after-school activities can mean even less time to spend a quiet moment with Mom. Mom/daughter time is important and I'm making an effort to find activities and time slots that work with family life.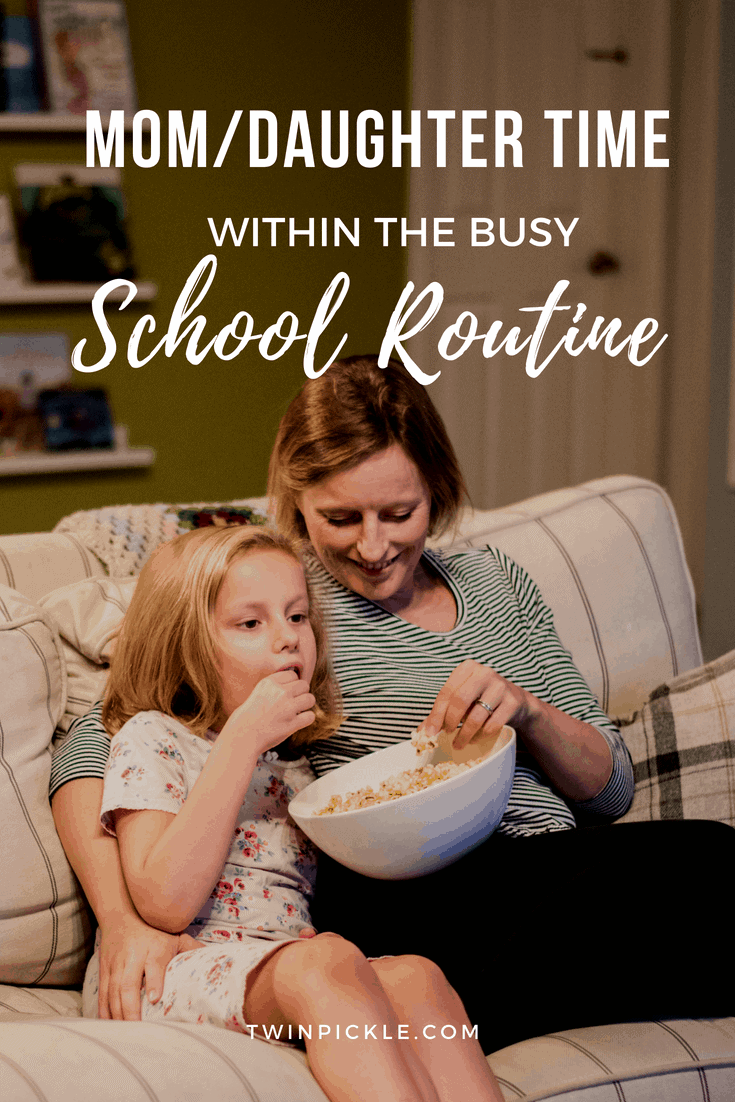 Mother/daughter time was easier when Elsie was my only child. These days I have the Twins to worry about and as toddlers they are pretty demanding. During the school break and weekends, we've always had nap time to spend together. Whether it be doing homework, baking or simply watching a TV show. Now, I need to find another slot to hang out together.
Making the most of Staggered Bedtimes
The Boys go to bed an hour before Elsie and during the break, this time was often spent cleaning up or catching up with my husband. It's actually the perfect time to spend a bit of quality time with Elsie, because the house is quiet and we can both wind down for the evening.
This is not the best slot for playing basketball or a dance workout, I'm thinking more chilled before bedtime! This week we picked up some popcorn from Walmart and got cozy for one of Elsie's favorite Netflix shows, "Spirit Riding Free". Sometimes keeping things simple makes the best use of time!
5 Ways to Make the Most of Mom/Daughter Time
Crafting & Drawing
I'm looking for quiet activities that allow for conversation, bonding and general off-loading if Elsie's needs it. We both love to craft and make things and if you're looking for some new activities DreamWorksTV on Youtube have some fun crafty activities for girls. Drawing or painting pictures of each other is always good fun. It requires a lot of concentration but is the perfect activity for talking together too. Sit opposite each other and don't show the results until the end!
Yoga & Meditation
Elsie started doing yoga at school and came back really excited about it. Since then she is keen to give it a go at home and its a great way to spend time together. Good for body, mind and relaxation, I highly recommend getting involved! Whether you follow an adult yoga class or a kids channel such as Cosmic Kids Yoga, you'll have fun and everyone will be relaxed for bedtime.
Sharing a TV Show
Occasionally we have to do homework after the Twins go to bed but it's not ideal if Elsie's tired. Curling up on the sofa for a cuddle in her PJs is definitely a better way to end the day. I'm not much of a cuddly person when I'm running around in the day and Elsie adores it if we get to snuggle in front of the TV.
Choosing a show that you both save to watch together is a great way to make TV time special. "Spirit Riding Free" tells the story of a 12yr-old girl who bonds with a horse and frees him from wranglers. Together with her friends, they embark on adventures with their horses and it's an all-round feel-good, horse lovers show. It has the perfect appeal to my 8yr-old daughter and she's always loved stories of horse and ponies. 
If you love the show like we do, download some free "Spirit Riding Free" printable activities.  We like the "Spirit Riding Free" Bingo and the word search, both great for mom/daughter time!
Facials and Pedicures
I tend to avoid manicures during the week because Elsie likes bright colors and sparkles which are not always appropriate for school. She does do Brazilian Jujitzu though and loves to show off a set of fancy toes! Doing each others nails or spending time soaking up a face mask is a great way to talk about self-care and enjoy a little pampering.
Organizing her Room
Cleaning is my daughter's least favorite activity, ha! But… going through her closet to work out what no longer fits, or what she might need is something she does enjoy. Sort and organize her jewelry box or teach her how to make the bed. Little everyday activities made special because you are doing them together. As I said above, sometimes the simple activities are the best!
Stick to activities that are not too difficult. Elsie, like many kids her age, gets frustrated with difficult tasks when she's tired and you don't want to end up in tears before bedtime!
I hope to keep up regular mom/daughter time with Elsie as the school year goes on. I've talked before about the importance of finding time for your other child when you have twins, and now we're back at school it needs rethinking again. It's not possible every day, and that's OK. But I hope to assign a couple of regular spots a week that we can spend together.