This printable clothespin activity is perfect for preschoolers and practices not only counting but also fine motor skills. The Twins have become pretty good with their counting recently and I thought I'd create them achallengee to put their new skills to use.
*This post contains affiliate links. This means I may get a commission if you decide to purchase one of the products I link to. For more information, read my Privacy Policy*
I taught my daughter numbers by counting the steps everytime we went upstairs to bed/bathroom/naptime. When you live in a terraced row house in England with one bathroom, you go up and down the stairs a lot. She quickly grabbed the concept.
We've been doing the same with the Twins, especially now they are able to pronounce their words better. Speech therapy is a long road but they have been making great progress recently! Now I'm sure they know their 1-10, we are opened up to all sorts of new activities. They love counting, and anything in the toddler math genre is a total win.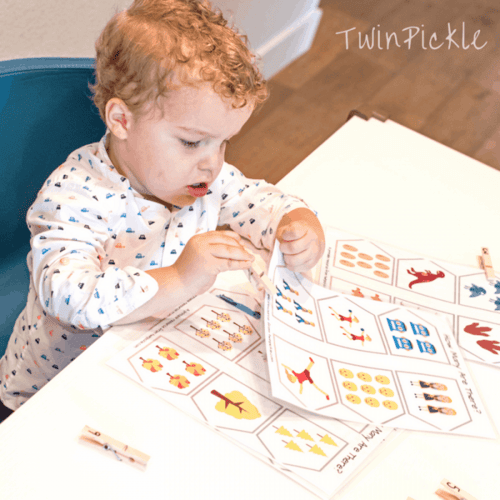 How the Printable Clothespin Activity WOrks
This printable clothespin activity is very simple:
Print the sheets from the free printable clothespin activity file.
Laminate is you like to go fancy.
Use a marker to write numbers 1-9 on wooden clothespins.
Show your child how to pin the matching number to the picture on the card.
You do not need to laminate your cards. I like to because I know they will last longer and the added stiffness makes it easier for your child to attach the clothespin. Plus, laminators are surprisingly affordable… I paid around $20 for mine!
I've also included a blank template in the downloadable clothespin activity. That way you can draw your own! I laminated my blank sheet and use a whiteboard pen to add the images. This way, I can wipe clean and start again.
Additional Skills Targeted by This Printable Clothespin Activity
Beyond counting, this printable clothespin activity encourages many other skills. The Twins have really enjoyed playing with theirs and I see them learning as they go:
Fine motor skills. Opening the clothespin and closing it onto the right spot on the paper is quite the challenge. Although we had the counting sorted, this new skill had these guys in full focus!
Visual focus. Although the Twins are pretty good at counting to ten, being able to focus on the number of pictures past 3 items seems to be difficult. They could easily look at 3 dinosaurs and say "three". But beyond that, I had to help them use their finger to steadily count through them.
Cross-referencing. Once they have counted the number of e.g. trees on the card, the Boys had to find the corresponding number on the clothespins. This second layer on the task requires concentration and memory. But watching them, it is definitely the most fulfilling. They scan the clothespins and are very excited when they spot the "three!" to match their picture on the card.
Download your FREE printable clothespin activity here –> PRINTABLE CLOTHESPIN ACTIVITY (no email required, just a freebie!)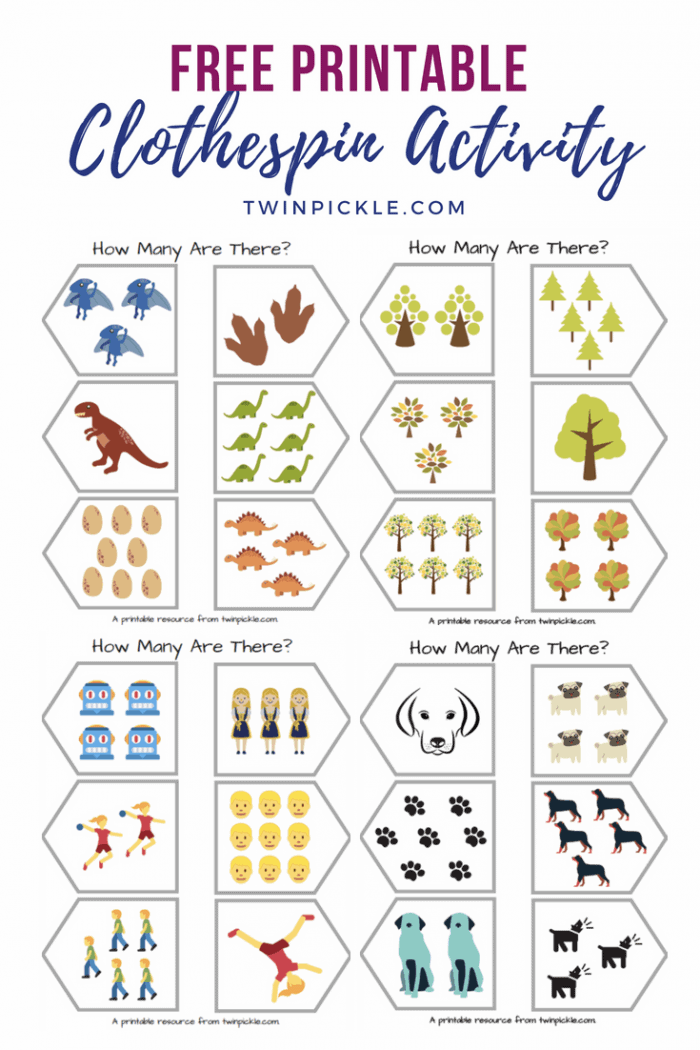 I think this activity is perfect for ages 2-4yrs. Early preschoolers and those little ones building confidence with counting. The sheets are easy to print and my clothespins cost less than $1 for 50 in Walmart.
I would love to know what you think about the activity? And if you have any suggestions of other printables you would find useful, do let me know!