When it comes to trending kids' obsessions, Pokemon stands the test of time. The ever-evolving creatures, their battles, trainers, and Pokeballs offer oodles of inspiration to create fun, unique styling. These adorable Pokemon bedroom ideas are sure to appeal to Pokemon fans everywhere, whether you're looking to DIY or buy some ready-to-go statement pieces.
Pokémon currently reigns as the single highest-grossing media IP on earth, with revenue exceeding roughly $105 billion across those same movies, video games, and merchandise that Time carped about.

Luke Winkie, Vox, Pokémon will outlive us all.
We moved since I last decorated the Twins' bedroom and this time I asked them to pick their own colors. Risky, because 5yrs-old tend to pick big bold colors. They chose a combination of Sherwin Williams 'Butterscotch' and 'Goldenrod' which was unexpected for two boys. It was only once I added the colors to the wall a friend said "I love the Pokemon colors" that it all made sense. So, a Pokemon-themed bedroom was born, and although the room is not heavily branded I think it turned out pretty darn cute.
This post contains affiliate links. This means I may get a commission if you decide to purchase one of the products or services I link to. For more information, read my Privacy Policy
There are many different ways to tackle a Pokemon Bedroom theme, so I wanted to feature some other ideas to create a useful guide to designing the perfect Pokemon bedroom. From paint choices, murals, DIY, and decor, you're sure to find some solid inspiration:
Pokemon Bedroom Ideas for Walls
Painted Pokeball Walls
This bold Pokeball design is the work of Shasta at FaithfullyFree. The red/white with black stripe is perfectly executed and immediately recognizable as Pokemon themed with the central circular Pokeball feature.
Pikachu Yellow Walls
If you're wanting to stick with single-colored walls, you can't beat Pickachu yellow, finished with plenty of adorable Pokemon-themed decor. This bright and cheerful bedroom from Sarah at BombshellBling is full of creative ideas using Pokemon cards and color-coordinated decor.
My boys opted for yellows too, but our room is more of a Pikachu/Eevee color combination:
Pokemon Wall Decals
Wall decals are an easy way to transform a bedroom, and I also featured them in my superhero-themed bedroom article. There are lots of Pokemon-themed decals to choose from but I have featured my favorites below:
Monochrome walls make a great Pokemon bedroom idea, especially if your kid is a little older. I'm a big fan of the walls in the Pokemon-themed rooms of the Mimaru apartment hotels in Japan. All three of my kids are hoping to visit Japan one day and I would love to surprise them with a stay in one of these apartments!
I struggled to find the exact wall decals from the Mimaru rooms to repeat this look, so I decided to cut my own using my Cricut. If you don't want to cut them yourself, companies like StickerMule will print a small batch of wall decals quickly and the price is pretty good. Etsy is full of downloadable art files ready to print, here are my favorites:
I used the file from the top left for the Pokeballs in my boys' room and they were very pleased with them. I also Upcycled a plain white picture frame by painting the top half red and using a little black tape (I actually used some Cricut vinyl scraps) to make the central black stripe. I printed a Pikachu poster to fill the frame and the finished look was a hit!
Pokemon Bedroom Ideas for Themed Bedding
I decided the painted walls, art, and toys were enough theming to hold our room together. Having said that, any bold-colored bedding will enhance the Pokemon vibe. The multi-color zig-zag bedding shown in our bedroom is the Dominik Duvet Cover Set from Kohl's and it's great value for money for cotton bedding. Plain red or a red/white stripe or check will also work well. If you want to fully theme your Pokemon bedding here are my favorite choices from online stores:
If you can't find any ready-to-go bedding that fits your Pokemon bedroom idea, you could always try making something yourself. A red/white/black Pokeball could make a fun sewing project to make a custom duvet cover. If you are more of a quilter, consider using some of the great Pokemon-branded fabric available at stores like Joanns. This beautiful handmade quilt featured at BombshellBling is just adorable!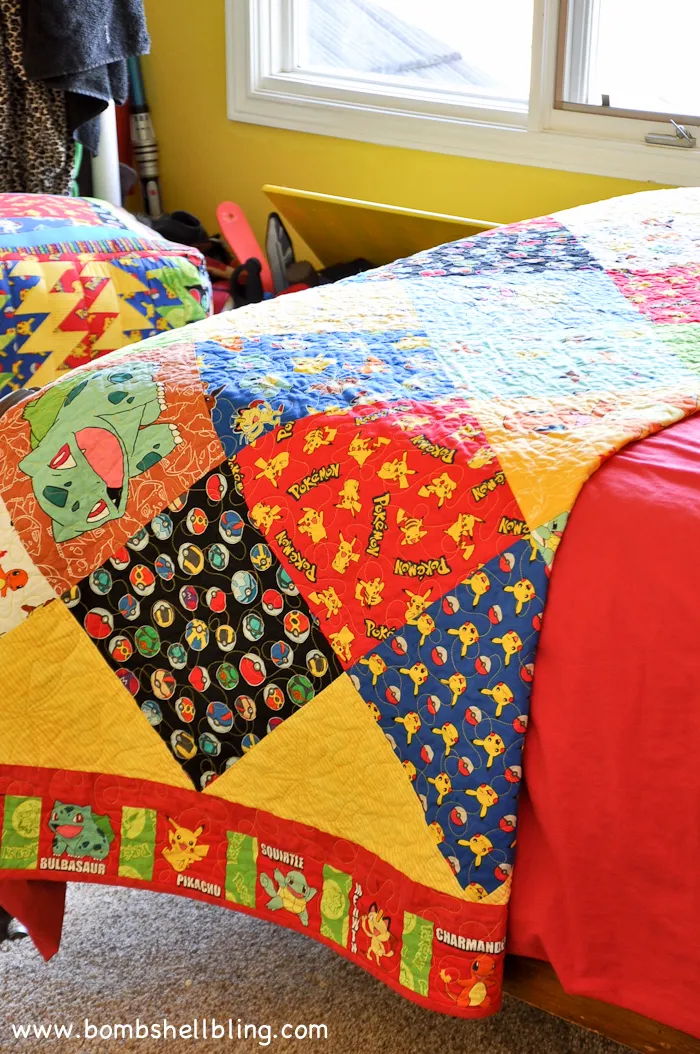 Pokemon Bedroom Decor Ideas
Whether it's wall art, plushies, or a decorative rug, those finishing touches make all the difference. Here are some great Pokemon decor options for DIYers and shoppers alike:
Pokemon Wall Art
DIY Pokeball Rug
This fab DIY Pokeball rug from The Handyman's Daughter would finish our boys' room perfectly, I might just have to make one for myself:
Finally, Pokemon Plushies
No Pokemon bedroom is complete without at least one Pikachu! Officially branded Pokemon plushies are surprisingly expensive, especially for the larger ones. Personally, my kids adore the Squishmallow brand and no one can doubt they feel amazing to squish. My boys have Pokemon Pillowbuddy plushies from Target (the two sleeping Pokemons shown below); they're pretty good value for the size and feel just like a Squishmallow.
You are now equipped with everything you need for an adorable Pokemon-themed bedroom your kids will love!