Do you have a little hero at home looking for the ultimate kids' bedroom? Superhero styling is relatively easy to pull off and it can be a grown up or adorable as you like. I'm highlighting five essential components for the perfect superhero bedroom.
*This post contains affiliate links. This means I may get a commission if you decide to purchase one of the products I link to. This does not affect the price of the item.*
Creating the perfect superhero bedroom is not about plastering the walls in pictures of Superman… although I'm showing off plenty of cool wall art further down the post. Before you choose a few iconic images for your walls, consider the backdrop. If you didn't have a single picture of a famous hero in the room, how would you make it look like a superhero room?
5 Steps to The Perfect Superhero Bedroom
City Skyline mural
All my favorite Superhero bedrooms incorporate a city skyline. Whether it's a simple mural created with masking tape or a detailed illustration, every hero needs a city to save! If you have a younger hero, you may want to go for a more whimsical skyline, but if you want something to appeal for many years to come, you could even try a photographic city wallpaper.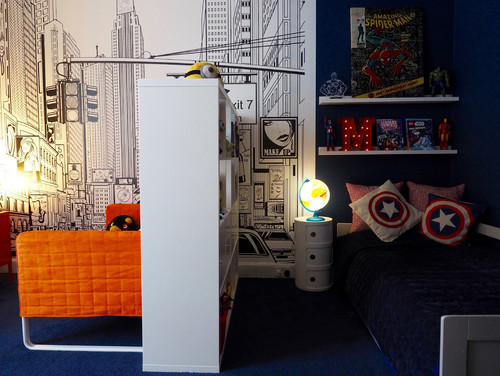 There are so many cool decals and wallpapers available now, you don't need a fine art degree to pull off the perfect city skyline mural!
High Contrast
Whether you stick with monochrome or go bold and colorful, you need some serious contrast to create the perfect superhero bedroom. Take comic book concepts and use them to create a color palette: a bright white backdrop with a feature wall of dark gray or a primary color. A superhero room is not for the faint-hearted… keep it clean and simple but don't be afraid to make it pop!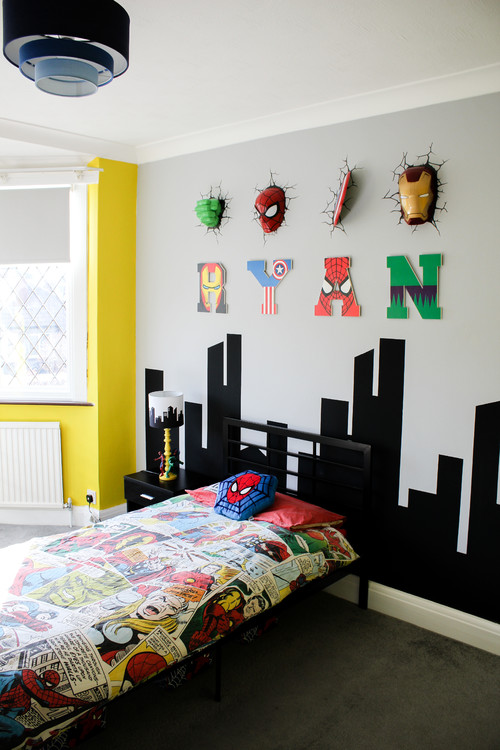 If you enjoy monochrome with a splash of bold color, check out my twin boys' adventure theme room.
Pow, Bam, and Superhero Slogans
You can't have superheroes without some action. Keep it whimsical with some word wall art. I love this set of five spiderman prints from EllowDee on Etsy, in particular, the 'I'm not saying I'm Spiderman…' print is awesome!
Black wall decals will break up a bright white wall with comic book contrast, and if you want to keep it framed there are some awesome prints available too:
Masks, Symbols & Lighting Bolts
The image below is from Target's DreamIt Superhero Collection and although I love their cute bedding and pillows, the lightning bolt and mask decals are making it for me. The Batman mask is a classic superhero icon but and don't forget about the Superman symbol!
Choose A Superhero (Or Don't)
I'm not usually a fan of TV character themes but the pop culture associated with comic book characters gives them superpowers when it comes to design. However, you can go overboard on the Spiderman theme… get the backdrop of colors and a skyline in and you don't need to go crazy on everything else.
To complete the look and identify it as the perfect superhero bedroom you could just pick one or two pieces with a character associated. And if you can't decide on which character to pick, go with a Marvel mix. I love this bold print with four classic characters:

There is so much superhero decor out there but I'm picking six of my favorites below:
The cute Captain America poster is personalized too which I love. For more personalized kids decor check out my post on the best of Etsy personalized decor.
Superheroes are not just For the Bedroom
Lastly, in case your superhero decor obsession needs to spread from the bedroom, check out this printable Superhero bathroom pictures form ProyectoAlegria on Etsy… Love them!
And just one more… I couldn't resist these Batman and Wonder Woman bathroom prints from wyatt9:
I hope you're feeling armed to create the perfect superhero bedroom
. Remember… be bold, brave and just a little bit retro.
Feature photo: Esteban Lopez