Flying with multiple kids is a daunting prospect, even with two adults on board. When you find yourself travelling alone it can be pretty overwhelming. I took the plunge this year, with 3yr-old twin boys and my 9yr-old daughter!
I moved to the US from England 5 years ago, and I have been keen to take the kids home for a tour of the Motherland. The last time I visited, I was just into my second trimester with the Twins, and since they were born I have been terrified of long haul flights, breaking the routine and the logistics of traveling with mountains of luggage.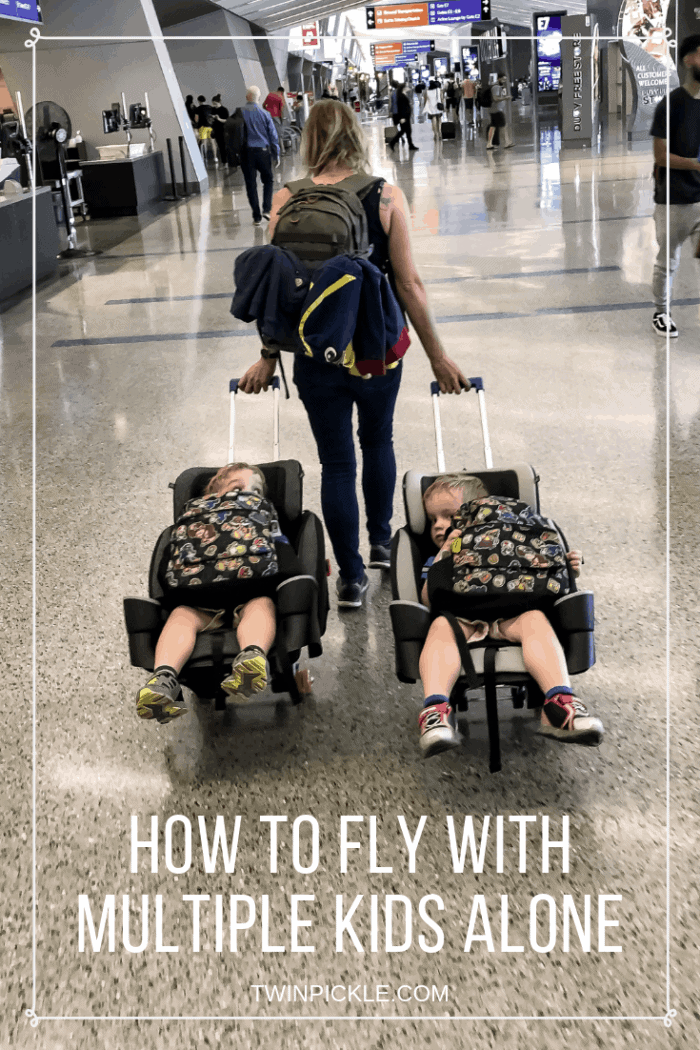 *This post contains affiliate links. This means I may get a commission if you decide to purchase one of the products I link to. For more information, read my Privacy Policy*
I promised myself in 2018 that I would take all three kids to England for the summer of 2019. So I booked flights 9 months in advance and the decision was made… I was going. Following our early booking, my husband's career took an unexpected turn and he was unable to come on the trip. This left me traveling with a 9yr-old, and 3 yr-old twins for a month alone… eek! I am pleased to say the trip was a total success, and since my return, I've been looking forward to sharing some of the choices I made that made everything run smoothly!
Preparing Children for a Long Haul Trip
Our grocery shop goes more smoothly if I set out expectations beforehand, pep talks are everything. For the week before the trip, I spent plenty of time talking to the kids, getting them excited for what was to come. It helped them envisage the trip. Everything can be positive, so having to stay put in your seat for 10hrs can also be sold as "You get to have a grown-up seat all to yourself and you can watch your own TV. You even get to have your dinner and sleep on the plane… how cool!"
Pack Light… Seriously light.
I know you might feel like you have to prepare for every possibility, but luggage is torture. Trying to keep track of multiple kids in the airport while also dragging multiple bags is extremely stressful. You will be OK with just the basics. If you run out of clean clothes and need to buy and an extra T-shirt while you wash another so be it.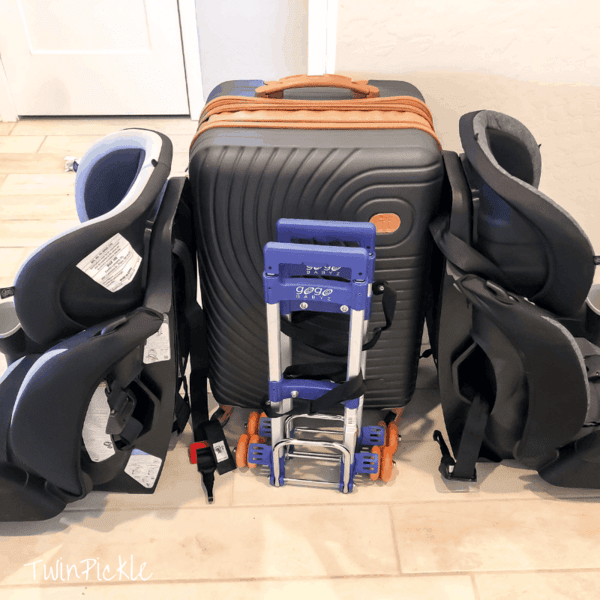 We packed a single medium-sized wheely for all four of us and it was plenty. We only had the shoes we were wearing plus flip flops in the bag. I only took a small pack of pull-ups for night time and bought more on the trip. No hair straighteners, minimal cosmetics, we bought beach towels while we were there. We made the decision to take the car seats because we were in England for a month and the per day rate for rentals on three seats was insane. With the seats in tow, one bag was all I could handle.
9 Clever Items that Made Flying with Multiple Kids Easier
My first total win of a purchase was the GO-GO BABYZ Mini Travelmate. Recommended by a friend, this genius piece of engineering helped me pass through the airport quickly and make sure I knew where the Twins were at all times. Plus, they had a blast! Whether they were riding in them, or pulling them themselves, they thought the whole experience was brilliant. I do recommend having a practice run at home, just so everyone knows what to expect.
One of the reasons kids find sleeping on the plane so difficult is that their feet do not reach the floor. Long term, it's incredibly uncomfortable to have your feet dangling. These inflatable footrest pillows make each plane seat into a toddler-sized bed! Although I did feel like a little bit of lemon kneeling to blow up three of these puppies, I was the one feeling smug while all three curled up and slept for 6hrs. Even the other passengers and staff could not believe how well they slept!
A Bag of Goodies
I travelled quite a bit as a child, and I always remember being excited about cracking open my little bag of goodies when I got onto the plane. A coloring book, a puzzle book, my little brother's GameBoy (retro). I took the kids shopping with me the day before the trip to pick our a few bits, and they knew they were not allowed to open them until the were buckled into their seats and sitting quietly. They had a small rucksack each containing:
Back in the day, airlines used to hand out old-school headphones. These days they offer earphones… the type that do not (and probably should not) fit inside your child's ear. Frustration follows because the special TV time you promised can not be heard. All three kids thought their child sized headphones were the coolest thing ever, and they had lots of fun picking movies to watch!
Being a light packer advocate, I was really reluctant to take any blankets onto the plane. However, the kids immediately looked droopy eyed when I pulled out the fleece blankets they used to use for nap time at daycare. Although these items were chunky, they did fit into their backpacks and 100% made 'bedtime' easier. Microfiber fleece is also super light!
If your children are very small, they may also need a little boost up to see the TV screens, because they don't quite tilt enough to be seen from low level. A blanket and the airplane pillow does the trick!
Although the kids already had plenty to entertain themselves on the flight itself, their Amazon Fire tablets were fabulous for waiting periods in the airport. Young children are curious, and it can be very overwhelming for parents when they want to wander off. Get to the gate with plenty of time to spare and let them get stuck into some educational games!
If you want to know more about Amazon Freetime and Tablets, check out this post with lots of info!
I believe when I was a kid the airlines used to give out eye masks, but not anymore. The soft eye masks I bought the kids helped them get into 'sleep mode'. They also wore them for a lot of the trip because most of the places we stayed didn't have blackout blinds as we do at home.
Snacks
With the Twins being gluten-free, I always knew I would need to pack extra snacks. The last thing you want is hungry grumpy kids while you're halfway across the Atlantic! Snacks not only keep them full, but they also keep them occupied. Not really a mantra I like to live by on a daily basis but there are no snack or screen time limits when you're on a plane… only survival!
If you do decide to take your car seats, I highly recommend gate check bags. They protect the seat fabric and also keep straps tucked away. Plus, because I rolled the seats to the gate on GO-GO BABYZ Mini Travelmates, I could detach and store the Travelmate inside the car seat bag.
Strategic Seating
I was traveling as one adult and three children in a plane which only had seats grouped in threes. I spent a bit of time considering the best way to seat everyone. I came to the conclusion that I would sit on the other side of the aisle, with the kids grouped together. I sat my 9yr-old daughter between the Twins because they fight… alot. I put George in the window seat because he was the most likely to escape his seat and run the aisles. The positioning worked perfectly!
Lastly… Cut Them Some Slack
I have a pretty short fuse when I'm stressed and anxious around the Twins. When you're worried about catching a flight, renting a car, navigating a foreign country, it's easy to become intolerant of children's behavior. Remember flying is an exciting experience for all, and being in an airport/airplane is a lot to take in. Talk about sensory overload!
Allow plenty of time, stay calm and enjoy!