Choosing the right shade of mustard yellow can be more difficult than you think. When browsing paint cards your eyes can't be trusted, because next to sunny bright yellows, mustard is quite the contrast. I'm sharing the methodology behind the perfect trending mustard yellow, so you don't end up regretting your color choice.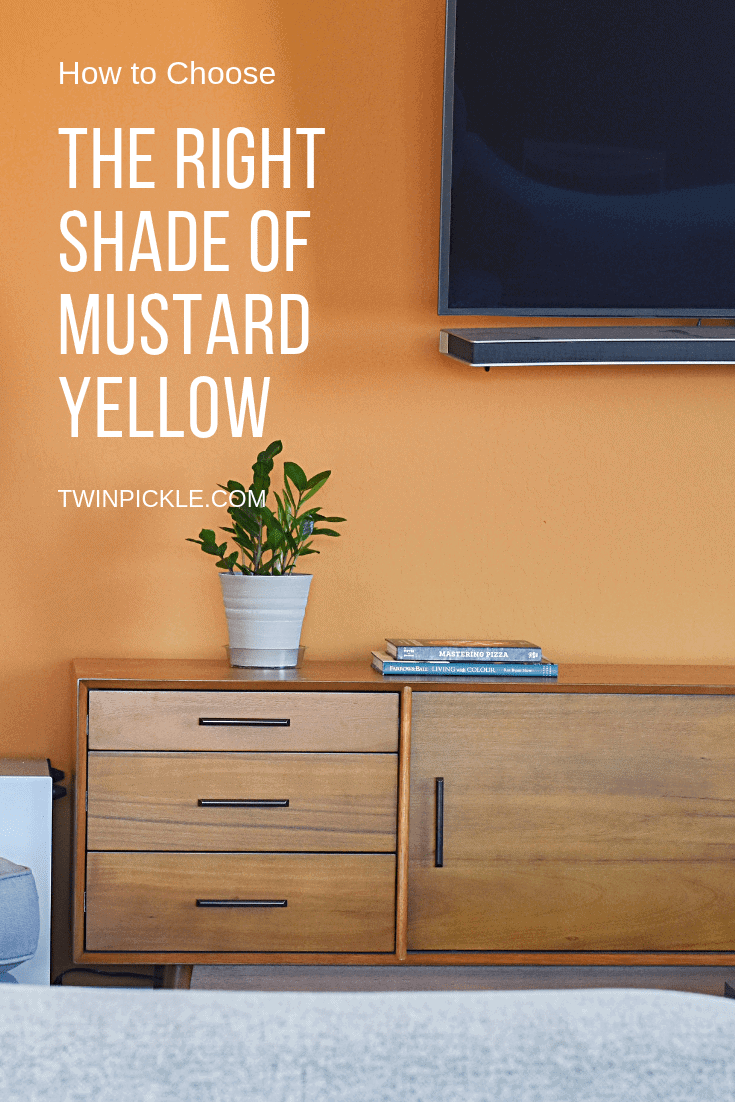 This post may contain affiliate links. This means I may get a commission if you decide to purchase one of the products or services I link to. For more information, read my Privacy Policy
Why Mustard Yellow is Trending Right Now
Yellow has been tending in homes and fashion for a couple of years. But 2019 brought with it the deeper, darker shades of retro mustard. I put this trend down to the ever-increasing popularity of mid-century modern design. Mustard yellow is retro, gender-neutral and has genuine feel-good vibes.
Why Mustard Yellow is a Difficult Color to Pick
This is my second attempt at the perfect mustard yellow feature wall. In our last house 4 years ago, I tried to hit mustard yellow warmth in the bedroom. I browsed the yellow palette in the paint shop and went for what I thought was classic mustard. Once on the wall however it looks considerably brighter.
Next to other yellows, mustard is difficult to pinpoint. Take a look at this extract Sherwin Williams color palette below. What would you say is retro mustard?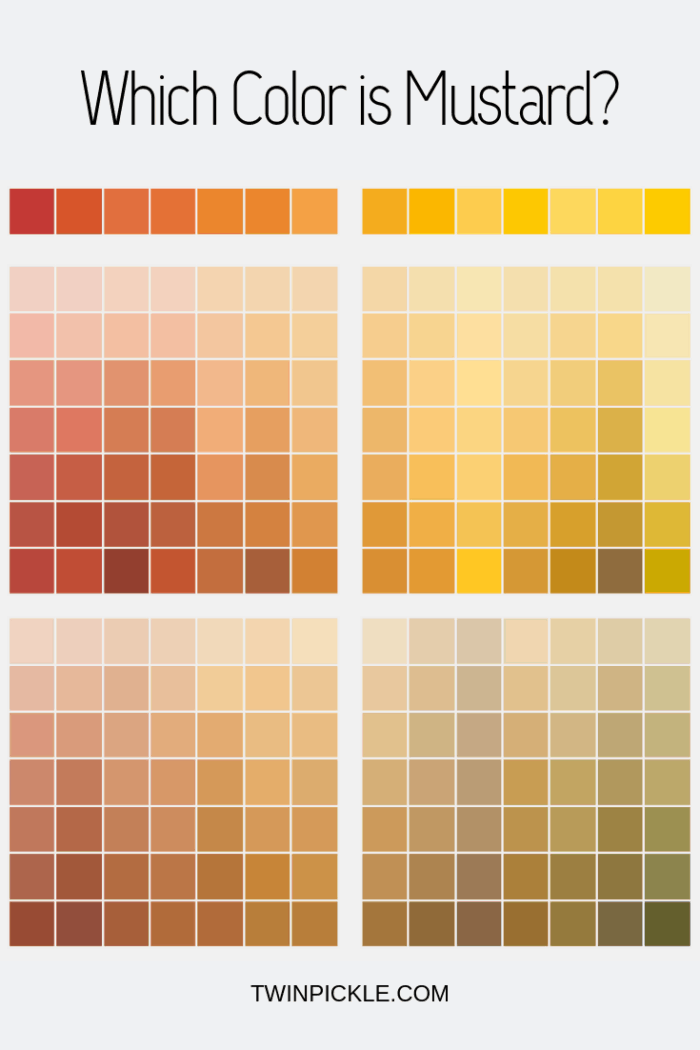 4yrs ago I went in the upper right-hand square. I mean, that's where the yellows are, right? But mustard is actually more bronze than you would think. Sherwin Williams' "Cut the Mustard" is actually the color on the bottom row above the 'P' in TwinPickle. I chose "Butterscotch" for my feature wall (shown below), which on the color palette is directly to the left of "Cut the Mustard".
On the Sherwin Williams website, and on the color cards, these colors look brown. I was extremely nervous putting it on the wall! So keep in mind… mustard is not as yellow as you might think!
Mustard 'Yellow' Inspiration for Your Home
As I'm only really here to share my epiphany about mustard being brown not yellow, I thought I ought to offer a little home decor inspiration to get your retro mustard juices flowing:
Mustard Yellow Kitchen Color Pop
This shade has definite green hues, rather than the bronzed color of classic mustard. I love how it brings instant retro style to this simple modern kitchen.
---
Avocado, Orange & Mustard: Retro Paradise
Thie design below is my new home spirit animal. I have chosen avocado green velvet curtains, a deep gray couch, and my side unit is very similar to the one shown in the image! I'm not sure how I feel about bringing reds into the mix but this is making me want to brave it!
---
Mustard and Black: Timeless Combo
Although this kitchen came up while searching Houzz for mustard, it's definitely more yellow. But… I think it would look even better in true mustard, and I loved it too much not to share!
---
All the Colors
Mustard yellow works really well with a combination of bright colors. Reds, blues, orange, green. This study space has it all!
---
Navy, Pink & White
Navy and mustard are a classic combination, but I love the addition of this pink velvet sofa! Bright white is a classic backdrop for these gorgeous colors!
---
I hope I've brought some clarity to your mustard yellow color choices and you can feel confident in picking up paint for your next project! Any questions, just ask!