Thank you California Closets for sponsoring this post.
Your closet is a hard-working corner of your home. But a jumble of racking and an overfilled rail will not spark joy first thing in the morning. Today I'm celebrating my success in decluttering clothes and sharing how to focus your closet design like a professional. Following my California Closet consultation, I'm passing on tips to organize your closet design around your personal needs and styling.
Closet Decluttering
If there is one part of my decluttering journey that has been successful, it's my closet purging. It has been liberating to get rid of unused clothes and enjoy organizing a functional closet. I confess I have also bought items, but because my wardrobe was stripped back it has been so much easier to see where the gaps are and make sensible purchases.
I have no regrets for the things I have let go of. The KonMari decluttering method says take time to thank and say goodbye to your clothes. This may sound a little wacky but things like my favorite maternity dress or the jeans I'll never fit into again have had their place in my life and I like the idea of recognizing the emotional attachment in order to be free of it.
Check out Marie Kondo in action on Katie's busy closet in the video below. The transformation is quite spectacular:
My Current Closet
We have an enormous closet. Fabulous if the rest of my house was ready to be featured on Cribs, but when you don't even have a bathtub that fits an adult it seems a little out-scaled. At some point, a previous homeowner converted the fifth bedroom into a master closet, which means we have a big room with storage around the perimeter and enough space to swing a mountain lion.
As a budding minimalist, I don't need this much space just for clothes and I would love to have a big soak tub next door in our bathroom. Time to start planning a renovation project! I plan to move the wall and steal half the space to enlarge our bathroom. But, having lived with a jumbo closet for four years, can I go back to a sensible scale? Before I grab the sledgehammer I'm going to want to work on my closet design like a professional… by asking a professional!
My Califonia Closets Consultation
You can make an appointment for a free design consultation online with California Closets. Typically a consultation would take place in your home, so your designer can discuss ideas while seeing your closet in the flesh. As my reduced closet doesn't exist yet my fabulous designer David and I browsed ideas in the beautiful showroom here in Scottsdale. I would recommend a home consultation but the showrooms are fantastic if you have one nearby. It will get your imagination flowing with all the wonderful installations.
The consultation was broken down into three phases:
Discuss closet inventory, ideas, and budget. My designer wanted to know how many shoes and clothes I had as well as the overall scale of my intentions.
Browse examples of California Closets' work. I was given a tablet with a beautiful gallery of closets. I flagged the ones I loved and this gave my designer a feel for my personal style.
Design reveal and quote. My designer used a 3D design program to create visualizations of my new closet design. The program also calculates the cost.
My New Closet Design
I could not believe how much storage was created in the new design. The symmetry of the room appeals to my modern tastes and the combinations of hangers, drawers and shelves are perfect for my storage needs.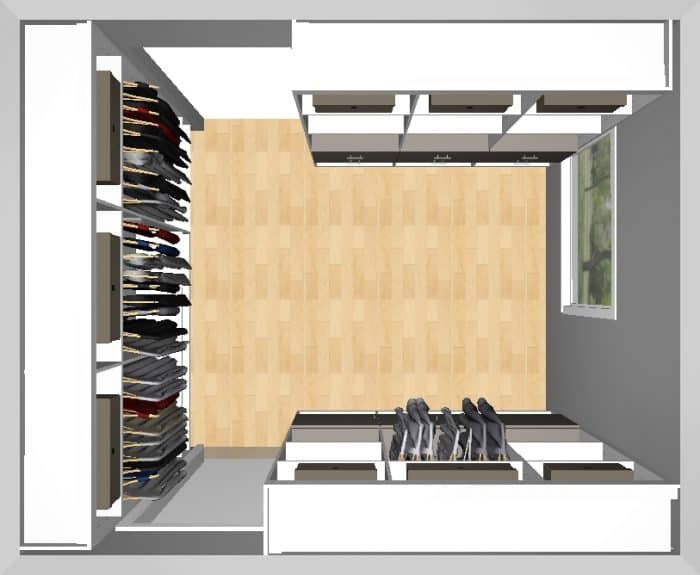 My designer David quickly picked up on what will work for my personal closet needs. He could extract what I liked about other closet examples and apply to my unique design. I never knew I was so picky… turns out I have very particular taste and David was able to hone in on that.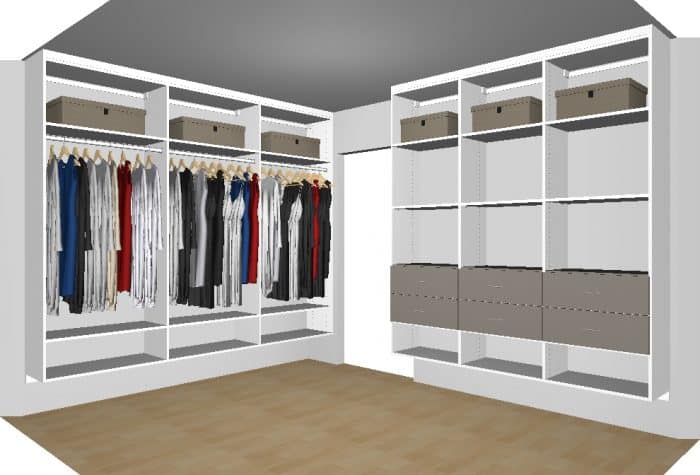 5 Key Design Tips for My Personal Style
Shoes at foot level. I don't have pretty shoes to show off so I personally don't want a wall of shoe display.
Keep the floor clear. I like storage that allows for the floor to remain clear and easy to clean. We chose to install all the storage hanging off the wall without ever touching the floor. This also kept the cost down because there is less material used.
Space for storage boxes at high level. I'm pretty short and will not be using high-level storage regularly. But allowing for box storage keep items dust free and helps organize accessories and seasonal clothes.
Symmetry and minimalism. There is something satisfying about symmetry when it comes to organization. My new closet design keeps positioning simple and mirrors its design on either side of the room.
Horizontal aesthetic. I kept picking out horizontally organized closets. So we kept drawers/cupboards in a horizontal layout and incorporated a full width of rails. Keeping the shoes horizontally along the bottom also helps with this visual trick.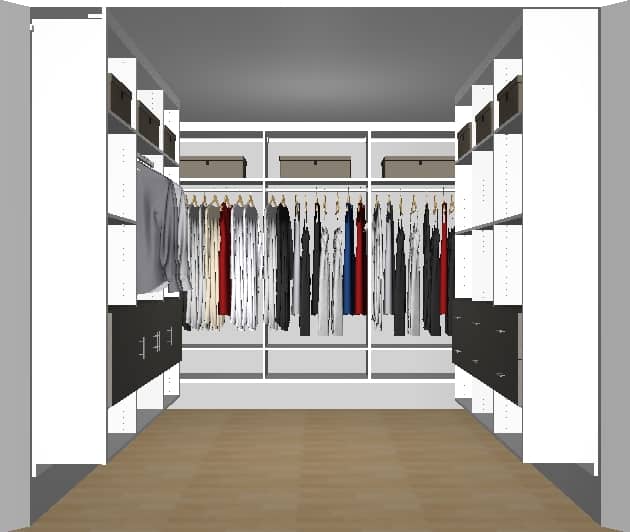 About California Closets
California Closets' professional design consultants are there to help create a custom design that meets your needs, reflects your personal style and works within your budget. My designer was so good at doing this, and his focus on keeping me within my budget was refreshing. He was quick to point out extras that affected the cost and made it really easy to prioritize where I wanted to spend my money.
California Closets has so many beautiful finishes to choose from, from clean and simple white, to proprietary textures imported from Italy, all of which are environmentally sustainable and California Air Resources Board (CARB) compliant. I personally went for white and grey because they are timeless and fit with my minimalist aesthetic. They also have an extensive range of clever storage ideas to incorporate like the cute accessories trays in the video above… they really do have a solution for everything!
California Closets also offer custom storage and organization solutions beyond closets. From pantries and media centers to mudrooms and garages, California Closets has storage ideas for big and small spaces alike. I am a little bit crazy for the pantry they had in the showroom… organizational goals!
Book a Consultation with California Closets
A design consultation is free and will be so useful in the planning of your space. Many locations also offer seasonal promotions and/or financing options. My local store had a great promotion running when I went in and the final quote was within my sensible budget. I recommend scheduling a California Closets consultation to find out more and brain-storm ideas.
I was selected for this opportunity as a member of CLEVER and the content and opinions expressed here are all my own.