Jump to recipe
Fun to make with kids, nutritious and delicious, these rainbow striped smoothie popsicles are a real crowd-pleaser for summer parties. The look on the kids' faces, when they pulled the popsicle out of the mold, was worth the extra time to make the layers. They also really enjoyed the measuring and careful layering while using the molds. A great summer activity for kids and totally delicious to eat once made!
This post contains affiliate links. This means I may get a commission if you decide to purchase one of the products or services I link to. For more information, read my Privacy Policy
Summer Science Activities and Food
It's summer, and not only is it hot but I'm also trying to come up with activities to keep the kids busy. They are really into science at the moment and have a couple of different science experiments and color science kits. I noticed watching them the other day that they really enjoy the measurement side of science. Measuring an exact amount of liquid to pour into something else. Measuring jugs, syringes, and droppers; this kind of kit is fun to use. And if you end up with something you can eat, even better! With it being Pride month I was looking to make something rainbow colored and then I thought… what if we made something they can geek out over with measurements? Rainbow striped smoothie popsicles it is.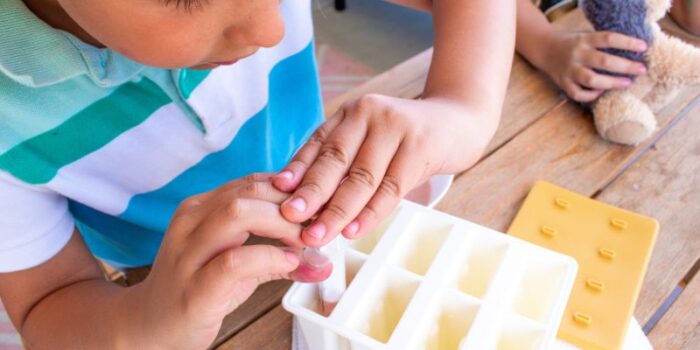 If your kids enjoy using molds and using foods for coloring, try making my healthy homemade fruit snacks from scratch.
Foods for Rainbow Coloring
Coloring used for these specific smoothie popsicles
If you want to eat the rainbow, you're going to have to incorporate a number of different fruit or vegetables. At the same time, I don't want the cost of these homemade popsicles to spiral out of control. There are many different foods you can use for color but to keep this activity on a budget I personally used these ingredients for color:
Red: Strawberry
Orange: Peach and strawberry mix
Yellow: Peach
Green: Peach and spinach mix
Blue: Blueberry and blue food dye
Purple: Blackberry and blueberry
If you spotted it… yes, I used blue food dye. If you want a natural alternative, blue spirulina powder is your best choice. Personally, I didn't want to spend the extra money and it's only a little dye in one layer. We also kept the price down by buying a mixed bag of frozen fruit. I found Target has a mixed bag of strawberry, peach, and blackberry. I also bought some blueberries because my kids love them.
Other foods you could use to color rainbow-striped smoothie popsicles
Red: Beets, raspberries, cherries
Orange: Orange juice, mango, passionfruit
Yellow: Banana, pineapple
Green: Kiwi, spinach, kale
Blue: Blue spirulina (blue is the trickiest color!)
Purple: Grapes, purple cabbage, purple yam
Popsicle Molds
We used silicon molds from Target. Call me old-fashioned but I like traditional wooden sticks, but I do like the flexible nature of silicon so this set makes the best of both worlds. The kit comes with 16 sticks but it's easy to source extras. There are plenty of alternative mold kits and I've included my favorites (including the one we use) below:
Making Defined, Even Stripes
How to stop rainbow striped smoothie popsicle layers from mixing
Ideally, you want to be freezing each layer before adding the next color to get the perfect rainbow striped smoothie popsicles. However, this does take a lot of time, especially if you do six layers like us. We waited an hour between each layer. The smoothie was not completely solid but it was firm enough to give separation between colors. The longer you wait, the more crisp the boundary between colors will be.
Measuring the depth of each stripe
The molds we used at 3oz(89ml) each, which most similar molds are. We used a medicine-style syringe to measure each layer to equal volume. We took each popsicle to be 90ml, divided into six layers (one for each color) giving us 15ml per layer. In reality, when we went to add the smoothie to the mold we realized the molds are sloped towards a slight point at the end, meaning if every color was the same volume, the top (first poured) layers would look thicker. We went with 10ml for the first three layers and 20ml for the last three layers but you may want to totally geek out and calculate the volume needed to make your stripes exactly even in depth.
Adding the sticks
When you're making single-colored popsicles, you'll fill the mold, pop the silicone lid on and push the stick through the allocated holes before freezing. When you're dealing with multiple layers frozen over time, things get a little trickier. We added the stick after the third layer because the second layer was still soft enough to push through. After that, we peeled back the silicone lid minimally to add the next layers with the syringe, disturbing the sticks as little as possible. Overall, the sticks will set at the end when everything is done so you don't need to be too precious.
Rainbow Striped Smoothie Popsicles Recipe:
Colorful rainbow striped smoothie popsicles, made with a simple yogurt and fruit and frozen recipe. Frozen in stages to complete the rainbow.

Notes
For a natural alternative to blue food dye, try using blue spirulina powder for bold blue color. The fruits listed are those used in the popsicles in the photo but you can use any fruits of your choice.

Ingredients
4-5 cups frozen fruit (strawberry, peach, blackberry, blueberry)
1.25 cups vanilla yogurt
1.25 cup milk
10 spinach leaves (for green color)
2 drops blue food coloring (for blue color)
Instructions
For the first three color layers:
Blend together 1/2 cup fruit, 2tbs yogurt and 2tbs milk using a personal sized blender or hand blender.
Use a syringe to add 10ml of the smoothie to silicone popsicle molds.
Freeze for 1hr before adding the next layer.
After layer three (around halfway), add the silicone lid and push the popsicle sticks into the mold.
For the last three color layers:
Blend together 1 cup fruit (1/4 cup of pale fruit for the blue layer), 4tbs yogurt and 4tbs milk
Use a syringe to add 15ml of smoothie per layer. Lift the silicone lid slightly to add the liquid but try not to pull out the smoothie sticks. If you do, just place them back, they will refreeze into place.
For the green layer, add a little spinach for color (approx. 10 spinach leaves, no stalks)
For the blue layer, add two drops of food dye to a smoothie mix will just a little light colored fruit (mostly a vanilla flavor layer form the yogurt). We used a little peach.
For the purple layer you may want to use a little less fruit (approx 1/2 cup) because blueberries and blackberries have a much bolder color than other fruits.
Nutrition Facts
Rainbow Striped Smoothie Popsicles
Serves: 10 popsicles
Amount Per Serving:

1 popsicle

Calories

75

% Daily Value*
Total Fat

7g

10.8%
Saturated Fat

1g

5%
Trans Fat
Cholesterol

6mg

2%
Sodium

5mg

0.2%
Total Carbohydrate

13g

4.3%
Dietary Fiber

2g

8%
Sugars

10g

Protein

3g
Vitamin A

0.2mg

Vitamin C

17mg

Calcium

104mg

Iron

0.4mg
* Percent Daily Values are based on a 2,000 calorie diet. Your daily values may be higher or lower depending on your calorie needs.
I hope the popsicles are a hit with all. Ours didn't last long and the kids are already scheming what popsicle creations we can make next. What I particularly love about these colorful treats is the nutrition in them really is great. If your kids love treats that taste like actual treats but are really good for you, I recommend trying my chocolate zucchini brownies recipe.