Jump to recipe
This shop has been compensated by Collective Bias, Inc. and its advertiser. All opinions are mine alone. #BakeBetterCookies #CollectiveBias #ChewyCookies​
How do you like your chocolate chip cookies? I would dare to suggest that most people like a crisp but chewy edge with a soft chewy center? This is not always easy to achieve when you're missing some simple but crucial steps. The perfect bakery-style chewy chocolate chip cookie is right here… its all in the size of the cookie, the consistency of the dough and the chewy magic of Karo® Corn Syrup!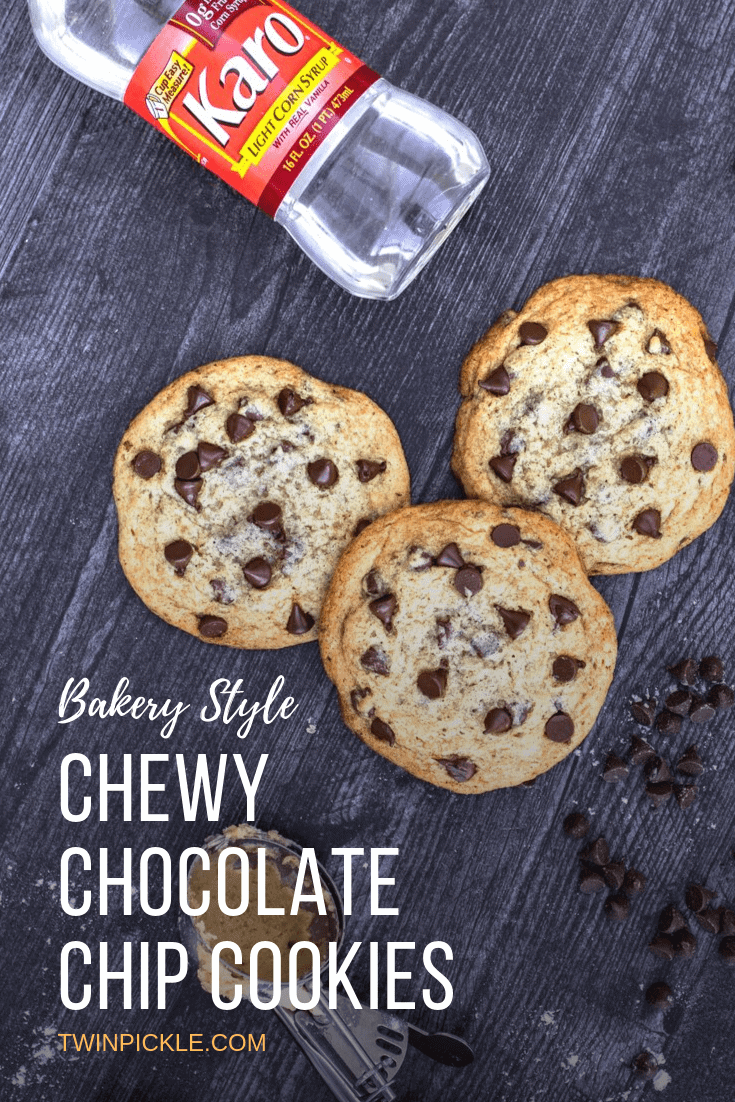 Simple Secrets to Bakery Style Chewy Chocolate Chip Cookies
Cookie Size
Bakery style cookies are big. You're going to use an ice cream scoop or 1/4 cup measurer, not a regular cookie scoop. Not only do extra-large cookies make for a crowd-pleaser, but they also give the best contrast between a crispier edge and a soft center. When you're scooping your dough you'll want to squash the dome shape down a little to create a thick disc.
The large volume of dough means they won't flatten and cook through without this step. Plus, it allows extra surface area to add your bonus chocolate chips to the top!
Ingredients
I have thoroughly experimented with ingredients for this recipe, and the factors which make the biggest impact are the flour content and the addition of Karo® Corn Syrup. Too much flour and you'll get a cakey cookie… delicious but not the bakery-style cookie we're going for. Too little flour and you end up in a gooey greasy mess. Enough flour is needed for texture, flavor and the baking reaction.
The Benefits of Karo® Corn Syrup in Cookies
Shopping carts are filled with Karo® Corn Syrup during the holiday season. It's one of the few ingredients in a Thanksgiving Pecan Pie, right? But Karo® Corn Syrup​ has so many other uses and is a staple of Southern cuisine. Add it to your baking, pour it over your pancakes, think outside the pecan pie box. We're busting open the Karo® Corn Syrup today to give our cookies the perfect chew!
You'll recognize the Karo® Corn Syrup​ bottle in store because it's the leading corn syrup brand, and has been used by multiple generations for over 100 yrs. Baking brings people together and creates tradition and inspiration. I've been using Karo® Corn Syrup since I moved the US, creating family traditions such as classic Pecan Pie as well as this recipe for the perfect chewy chocolate chip cookie!
Chilling Cookies
Every cookie recipe I read seems to have different advice on chilling cookie dough before baking. In truth, it depends on the recipe and cookie you are trying to achieve. Chilling helps the dough keep its form in the oven and reduce spreading. However, when you're making extra-large bakery-style cookies we want them to spread!
I suggest chilling the dough for 30 mins to firm up without creating a solid dough. You'll end up with a large, thin but chewy chocolate chip cookie… perfect!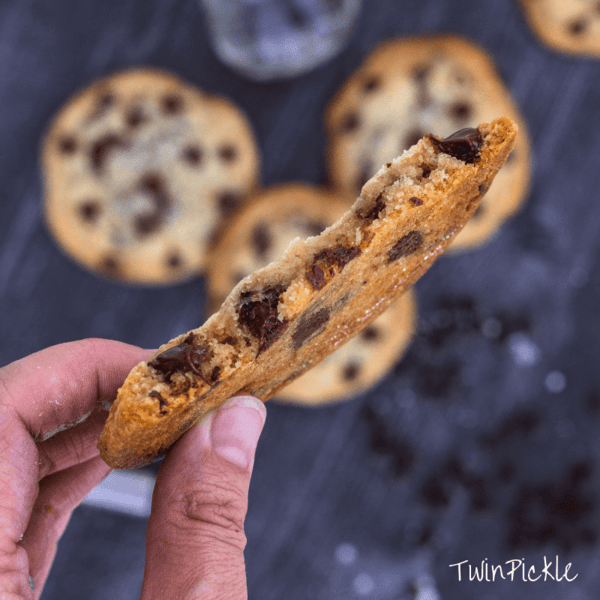 Bakery Style Chewy Chocolate Chip Cookie Recipe
Notes
This recipe works best with two baking trays. To be sure they don't touch, I bake three cookies on each tray. Two batches of 6 cookies.

Ingredients
1 cup butter (softened)
1/2 cup white sugar
1/2 cup brown sugar
1/2 cup Karo® Corn Syrup
1 egg (room temp)
2 tsp vanilla
2 1/4 cup all-purpose flour
1/2 tsp baking soda
1/4 tsp salt
12oz semi-sweet chocolate chips
Instructions
In a large bowl, cream together the sugars and butter until smooth using an electric mixer.
Add the Karo® Corn Syrup, egg and vanilla and continue to mix.
Mix the flour, baking soda and salt in a bowl. Sift the flour mixture into the cookie dough and mix until fully incorporated. Do not overwork.
Fold in the chocolate chips, then chill the dough 30 minutes.
Preheat your oven to 350°F (180°C). Line a baking sheet (two if you have them) with parchment paper.
Using an ice-cream scoop, scoop the dough onto the paper-lined baking sheet with at least 4″ of space between cookies. Press down on the top to create thick discs. Add some extra chocolate chips to the top.
Bake for 12-15 minutes, until the edges start to brown.
Cool before serving.
I am in love with this recipe! It was worth playing around with ingredients to perfect the bakery-style chew, and I'll be playing around with Karo® Corn Syrup in other recipes soon. Adding Karo® to my chocolate chip cookies resulted in chewier, great-tasting treats. Try adding it to your favorite recipes and see how Karo® Corn Syrup enhances your family traditions!