This post was sponsored by Amazon as part of an Ambassador Activation for Influence Central and all opinions expressed in my post are my own.
March is National Reading Month and the perfect time to encourage your kids to read more and find new interests. Although our Fire Kids Edition tablet is fantastic for educational games and videos, it is also the perfect vessel for thousands of books… the more ways those little ones can access reading time the better!
In celebration of National Reading Month, I'm sharing how we are working to build positive tablet habits at home. I also have a sweepstake to tell you about: Win a Fire HD 8 Kids Edition tablet of your own!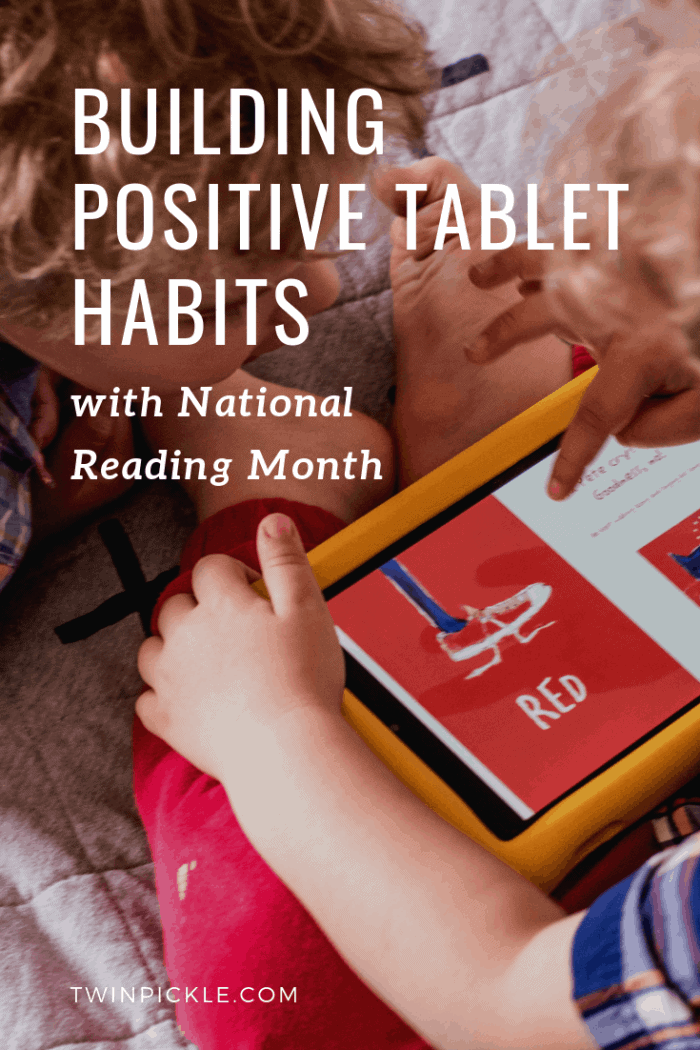 My daughter is a natural reader. It felt like she taught herself, like magic! But with the Twins' Childhood Apraxia of Speech, it was always going to take them a little longer to catch on. Recently they've shown so much interest! They want to follow the words with their finger, and even though they can't pronounce a lot of the words just yet, they give it their best shot, which is amazing progress.
Tablets for Educational Purposes
We love our Fire HD 8 Kids Edition tablet but I've never wanted it to replace time the kids could be reading. A survey Amazon FreeTime commissioned found that 95% of parents want their children to use smartphones or tablets for educational purposes. Amazon FreeTime Unlimited offers thousands of age-appropriate books and I want to make sure my kids are making the most of the opportunity and take ownership of their screen time.
The Twins love books, so to encourage positive tablet habits we have spent some time reading from the Fire Kids Edition in our usual bedtime story spot, showing the Boys how they can pick their own books and we can read them together. They are 3.5yrs and their top 5 fave picks are:
Pete the Cat,
Vegetables in Underwear,
Bart the Shark,
Brown Bear, Brown Bear, What Do You See?
Everyone Loves Bacon.
Amazon FreeTime Unlimited Learn First Settings
The Amazon FreeTime Parental Controls can also help encourage positive tablet habits. The Learn First settings encourage learning before play… only books are available for some of their screen time and this helps them understand the multi-purpose use of the Amazon Fire HD 8 Kids Edition tablet.
The Learn First settings can be accessed via the Fire Kids Edition itself or from the remote settings of the Parent Dashboard. Log-in from your computer or the FreeTime Unlimited app (available for download on iOS and Android). From here you can monitor your child's activity, including how much time their kids have spent reading each day.
Amazon Discussion Cards
While you're logged in to Amazon Parent Dashboard, make the most of Amazon's Discussion Cards. From your child's profile you'll be able to see the latest apps and books they have been reading. Click on the book and you'll see the Discussion Card. It'll give you information on the theme of the content, questions you can ask your child after reading, and hands-on activity which support this learning.
By engaging with your child's reading and discussing the content, you'll be able to gauge understanding of the key messages and vocabulary. My boys are also more likely to go back to activities I have given my full attention to.
Amazon FreeTime Unlimited on Other Devices
For those you that love to geek out on the tech, once you're signed-up with Amazon FreeTime Unlimited, the same subscription can be used on any compatible device including some Echo devices like the Echo Dot for Kids. The FreeTime Unlimited content experience will vary based on device but whether you're on your phone, tablet or Echo you can enjoy the benefits of your subscription!
Make the most of National Reading Month and encourage positive device habits by offering books over games in March during those emergency entertainment moments! Whether it be an appointment that's running late or a tired little one you're trying to keep awake in the back of the car, sometimes our phones are a lifesaver!
A Chance to Win a Fire Kids Edition Tablet
Amazon Fire are running a Sweepstake and you could win one of 10 Fire HD 8 Kids Edition tablets! All you have to do is pledge your participation in National Reading Month by clicking the links below:
Amazon Fire Kids Edition Sweepstakes
I-C will randomly select winners from all program entries and Amazon will facilitate fulfillment of the winning prizes of 10 Winners.
The Fire HD 8 Kids Edition tablet is the No. 1 kids' tablets in the U.S. and it comes with a kid-proof case and a two-year worry-free guarantee. If those little ones manage to break it, you can simply return and Amazon will send a replacement for free, no questions asked.
I'll be honest, Arthur & George are not always gentle with theirs and it's holding up great! Happy National Reading Month and good luck with the Sweepstake!