This solar system STEM craft project has been so much fun to put together. Between brainstorming how to build it, talking about planets, and the science behind glow-in-the-dark stuff, it's been quite the educational activity. Plus I found out my daughter is a bit of an expert on space, kids are such sponges for knowledge!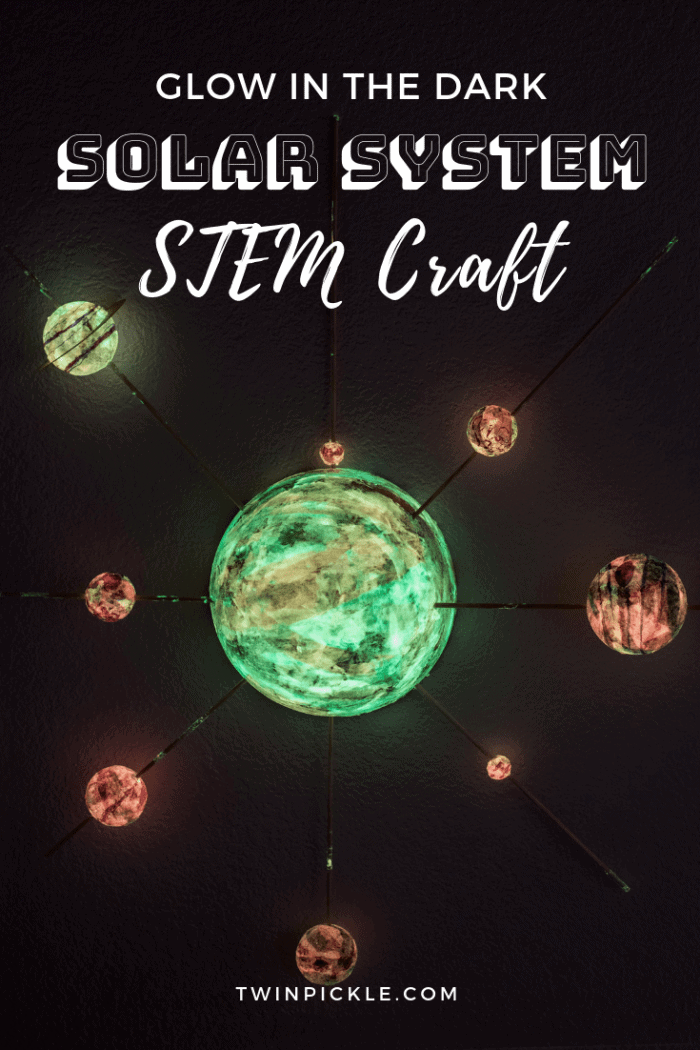 Elsie has been learning about the solar system at school and as a former science teacher myself it was the perfect opportunity to get crafty. This is an easy project and very approachable for the beginner crafter. We bought all our materials at Michaels and it took us the afternoon to put it all together.
Solar System STEM Craft Materials
This is an abstract model and we did not stick with realistic colors. We picked a multipack of colored tissue paper and chose our Elmer's Glow in the Dark Glue and Sharpies to match. You can pick any color palette you like, although I would say the glow works better on lighter shades. The mix of the light and dark tissue creates a great effect on the planets!
The Sun needs to be big, so we found a Styrofoam hollow half ball which worked brilliantly. For the planets, you'll want a mixture of sizes. We bought a Styrofoam ball muli-pack which came in an assortment of sizes (6-pack) and another pack with some little ones for Mercury and Mars. Everything you need for the solar system STEM craft is available at Michaels:
1 x 10″ Styrofoam Hollow Half Ball
8 x Styrofoam balls (an assortment of sizes),
4 x 36″ Wooden Dowel in 3/16″ thickness,
Elmer's Glow in the Dark Glue,
Colored tissue paper,
Brush for applying glue,
Sharpie markers,
Colored card,
String for hanging.
Solar System STEM Craft Instructions
Pierce the hollow half ball with the wooden dowel, in one side and out the opposite side. Repeat with the other three pieces of dowel, spacing them evenly around the dome, at different depths from the edge.
This allows for the diameter of the different planets and allows the dowel to cross in the center unobstructed. You want your sun to be able to sit flat against the wall, without being pushed out from a big planet set too close to the edge.
Once happy with the positioning of the dowel, remove it. Using Elmer's Glow in the Dark Glue, layer strips of tissue paper across the half ball Sun. Use the glue with a brush in a papier-mache method to make sure you get plenty of glue all over the surface. For extra glow, add a top coat of glue after the paper has dried.
Repeat this method with the planets. The full balls are more tricky to maneuver because they need glue 360°. We found it easier to do with the planets already skewered on their dowel… a Jupiter kebob!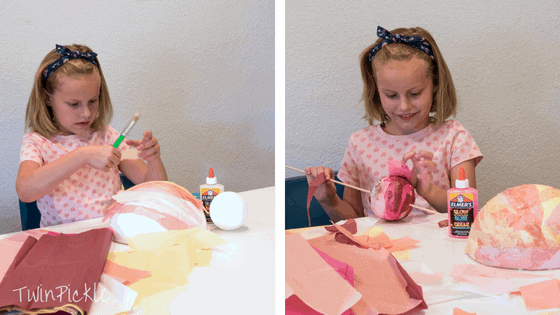 Once dry, put the solar system STEM craft model together. Repierce your dowel through the tissue paper and planets, spacing them in order from the Sun. Mercury closest, Neptune the furthest away. We also made a tiny little Pluto out of tissue paper and put it on the end of one of the dowel rods… Pluto's no longer a planet but we felt bad leaving him out!
Decorate each planet with surface detail using a Sharpie marker. As we worked our way around each planet we talked about what it's like there and what decoration each needed. We wedged a circular piece of card over Saturn to show it's rings.
Use a piece of string to tie a loop around the center point of the dowel rods, on the back of the sun. This makes a really easy invisible way to hang. Once hung up you can have fun testing out the glow of the planets! The more layers of Elmer's Glow in the Dark Glue the better… daylight works best for charging so choose where you hang accordingly. Otherwise, traditional light bulbs will also charge but energy saving bulbs don't really work… that was a talking point in itself!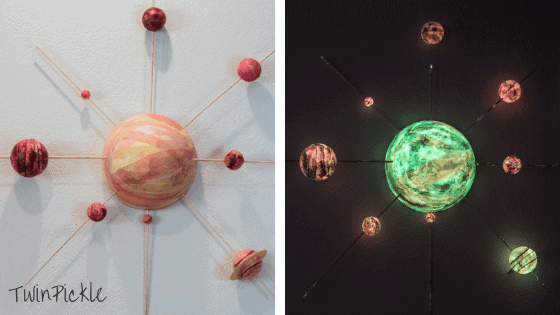 Solar System STEM Craft Talking Points
Crafting is such a great way to get the STEM brain cogs turning. Just walking around Michaels deciding on sizes of balls and why is a learning experience. Why won't the thinner Dowel work? Why do we need an assortment of sizes?
While gluing and decorating together there is plenty of time to chat about the different planets and share ideas of what it would be like to go there. Elsie knew how many moons Jupiter has, 67 apparently!
When playing around with the finished model we talked about energy transfer and light. How energy from the Sun is absorbed and reflected, how the glue is absorbing energy and emitting when we turn the lights off. There is just so much to talk about. And it really doesn't matter if you know all the answers… get the kiddos asking questions and brainstorm together!
This post is part of a social shopper marketing insight campaign with Pollinate Media Group® and Newell Brands,but all my opinions are my own. #pmedia #GetCraftyWithElmers http://my-disclosur.es/OBsstV