I received product and compensation from Mead Johnson Nutrition to create this post written by me. All experiences and opinions expressed in this post are my own and not those of Mead Johnson Nutrition. You can contact Mead Johnson Nutrition with product related questions or comments toll free at 1-800-BABY-123 (1-800-222-9123).
---
Creative art projects allow growing minds to practice important toddler development skills. By giving our little ones the right balance in their diet and engaging activities we are surely giving them the best start in life. Today I'm sharing why and how you can help support brain and eye development with DHA and highlighting how simple creative activities make a difference in toddler development.
AN UPDATE ON OUR SPEECH THERAPY JOURNEY
The Twins' progression with speech and language has taken a leap forward recently, which is fantastic. Unfortunately, with it has come some frustration in trying to communicate with me. They have new confidence in expressing themselves and it can be very upsetting if I don't understand their requests. We are in full swing of terrible two tantrums, but I'll take it if it means they are closer to catching up on their development!
With new skills to play with, we've been coming up with new activities to make the most of them. I'm trying to move away from focusing on the mechanics of speech alone and instead encourage them to use words while carrying out day to day activities. Toddler art projects for the win!
MAKING THE MOST OF ART IN TODDLER DEVELOPMENT
This age is perfect for art projects because brain development is giving them motor skills that allowing them to do so much! Suddenly they can paint recognizable shapes and they are so pleased with themselves for doing it. Celebrating their development is all part of the journey, and giving them the tools, including a diet that has DHA (more on that below), is important in their success. There are so many motor, and speech skills rolled into art… here are just a few pointers for making the most of it:
DON'T STICK THE PAPER DOWN
I used to use masking tape to stick paper to the table. This prevents the paper slipping everywhere which can be frustrating for toddlers. However, our therapist pointed out that using two hands in coordination is an important developmental milestone and being able to hold the paper with one hand while painting/drawing with the other is a great way to practice this.
DRAWING A STRAIGHT LINE IS DIFFICULT
When kids start to hold and use a crayon they usually scribble in a back and forth motion. But one of the questions I was asked during our development assessment around 18 months was: "Can they draw a straight line?" and I honestly couldn't answer, I'd never thought about it before.
Having the control to draw one continuous straight line is just as challenging as drawing shapes and you may catch your toddler just drawing line after line down the page. It's not be the most exciting of paintings but let them practice because their minds are working hard!
ALLOW THEM TO SOLVE THE PROBLEM
Being creative with an art project allows so many opportunities to succeed in problem solving. They know what they want to paint, and they have to find a way of making it happen. I am guilty of jumping in too soon to show them how or 'fix' something that's not quite right… don't do it! You may want the perfect recognizable monkey to hang on the fridge, but they already see the monkey in the big brown blob at the corner of the page.
TALK ABOUT WHAT THEY'RE PAINTING
I always presumed my boys were just painting random colors on a page, and because we have been working on colors in speech development, I became fixated on discussing colors during art projects. The other day George roared like a lion… he had drawn a lion! Somewhere in amongst the multicolored mess of paint, to him, was a lion.
Since then I've been asking more questions… What are you drawing? Is it a car? What else are you going to draw? Gaining intelligible responses to questions is a major development goal of ours so this works in so many ways.
GET MESSY, IT'S IMPORTANT
Getting messy is fun for them and not always so fun for mom to clean up. But, it's not just about entertainment, getting messy is important in sensory experience. All my kids are a little precious on the sensory front, and George has struggled even handling play doughs. He was happy if it was rolled into a ball but would get very upset if you encouraged him to squish it. He doesn't like getting food on his hands and is generally a bit of a sensory princess.
I plan to put together more sensory activities for them soon, but for the moment I am calling it a win that he's been getting messy with paint recently. Encouraging toddlers to touch and feel paint can be a big deal for them. The more you do it, the more they are learning about the world around them.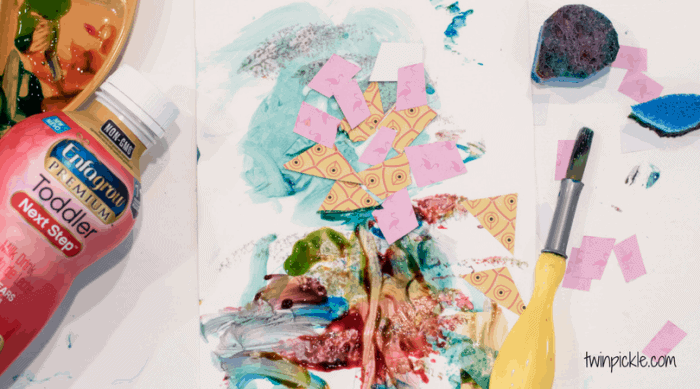 THE IMPORTANCE OF DHA IN CREATIVITY
DHA is an important building block of a growing brain. Although DHA is important for infants, it continues to be important in the further development of toddlers. 85% of brain growth happens in the first three years of life, it is important to ensure the toddler is getting important DHA to help nourish this brain growth. Experts recommend that toddlers have 70-100 mg/day of DHA to support early brain and eye development.
The main source for DHA is fish. As a parent in full swing of toddler pickiness, I can confirm that getting enough DHA from fish can be tough. Sadly, toddler favorites like cheese, bananas, regular milk and chicken nuggets all have 0 mg of DHA. On average, a toddler's diet only provides 25% of the recommended amount of DHA, leaving a nutrition gap.
DHA NUTRITION GAP
Enfagrow® Toddler Next Step™ is a milk-based toddler drink tailored for toddlers 1-3 years that has DHA and complements their diet to help ensure good nutrition for their changing needs and tastes.
Enfagrow Toddler is from the maker of Enfamil®, the #1 Brand of Infant Formula recommended by Pediatricians. When the Twins were little, we settled on Enfamil because it was gentle on their tummies. It's certainly a brand I trust with my little ones' wellbeing. Enfagrow Toddler has prebiotics to help support the immune system and other important nutrients that toddlers may not get enough of.
We have been enjoying Enfagrow Toddler for a snack break and have been using it as the perfect opportunity to work on those open cup motor skills! Arthur has it mastered, George is still pouring quite a lot down his shirt, but we'll get there! It is a great alternative to sugary drinks and still seems like a treat to them.
Visit Enfagrow.com to learn more and request free samples!
This is sponsored by Enfagrow® Toddler Next Step™.