I've finally broken the seal on my holiday shopping! Christmas shopping can be like giving birth… you look forward to it, even though you know it'll be painful, and towards the end you just want it done already. I feel like I'm getting worse at it with age too, could there be such a thing as shopping menopause? As you continue to buy presents for the same family members year after year, it becomes increasingly difficult to come up with unpredictable gifts to really blow them away.
*This post is sponsored by UncommonGoods but the opinions expressed are entirely my own.*
Back in summer, I was in need of a pair of taco socks… you know, a pair of socks decorated with tacos. Sometimes you just have a wacky idea and hope someone has already made it a reality. A quick search led me to UncommonGoods, a website full of unpredictable gifts, including the perfect pair of taco socks. So this holiday season I knew exactly where to go and find something unusual to surprise the family.
I've come across novelty gift stores before… those places selling last minute useless gadgets and comedy gags. This is not what I'm talking about here. Those kind of gifts are fun to open but in reality are terrible quality and usually head to the trash in no time. What about high-quality unpredictable gifts? UncommonGoods is packed with everything from awesome kids bedding, to organic tea sets, to handmade jewelry from boutique designers.
Unpredictable Gifts: My TOP PICKS
The Twins (Toddlers)
The Boys are two, so there's plenty of toys they would be happy with. However, I get a little tired of the bombardment of Paw Patrol merchandise and the Fisher-Price monopoly. What about truly unique gifts for children? What about a role play ice cream truck?! This is perfect for sharing and I know big sister will get involved too. The Twins are really enjoying their food toys at the moment so I know they'll love this!
My Mom (Age Undisclosed)
Although UncommonGoods is full of slightly wacky stuff, it also features beautiful jewelry, accessories and home decor which make perfect gifts for girlfriends and moms. The necklace I have picked out for my Mom (who is on strict instruction NOT to be reading this post) is handmade by Argentinian designer Fernanda Sibilia. She works it gold and copper and uses natural oxidation to complete her unique style, I love her whole range!
Elsie (7-8yrs)
Elsie loves stories, animation, comic books, video games and everything in between. She is going to go crazy for this stop animation kit! I can't wait to spark her creative interest in storytelling and encourage her to take it to the next level. This kit makes stop animation simple and the little characters make it easy to get started.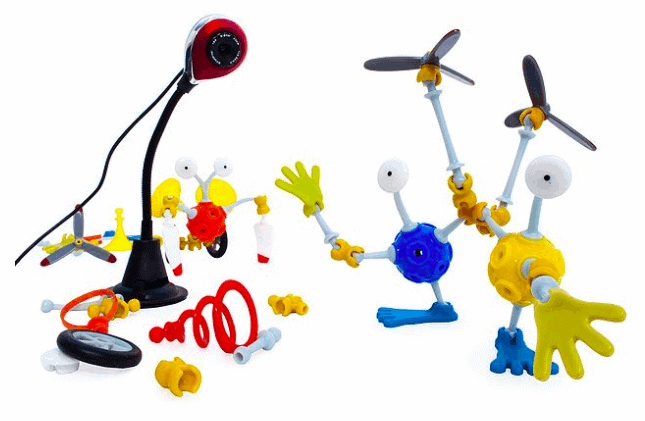 Friend or Neighbour (all ages)
I spotted these while browsing and thought 'what a lovely idea'! These little cards hold a seed… write down a wish, goal or positive thought, plant it and watch it grow!
Husband (Overgrown Teenager)
We recently bought ourselves a kitchen table and in the process told each other the table was our Christmas present to each other. In reality, it's nice to have something to open on the big day so we'll still pick up something small. Husband has been getting back into his guitar playing and I spotted this clever guitar pick punch which cuts picks out of credit cards… fun eh?!
This is as far as my holiday shopping has got, not a bad start at all, don't you think? I'm so pleased with my finds, truly unpredictable gifts that I know everyone will use and enjoy. UncommonGoods also feature lots of personalized unique gifts which I totally recommend browsing if you want something special.
Don't Know Where to STart?
If you're totally stuck on what to buy your loved one, give Sunny a go. Sunny is UncommonGoods new expert gift finder which allows you to add the interests of the person in question. The site will create a personalized list of gift recommendations which you can choose your favorites from to gain even more suggestions. It saves you having to browse multiple categories and really helps hone in on ideas.
Feel Good About Who You're Buying From
Like me, UncommonGoods care where their products come from. They often feature recycled materials, and never sell leather, feathers or fur. UncommonGoods have also donated over $1,000,000 since starting their Better to Give program, which allows you to select a non-profit organization to receive a $1 donation from the company at checkout. Gotta love that.
I'm feeling pretty pumped to have started my holiday shopping! I don't buy a lot of presents at Christmas, but the ones I do buy, I like to get right. Happy shopping!