As soon as the Twins started climbing out of their cribs, it was time to move to proper beds. This was sure to happen earlier than it did with their sister, the temptation of getting to each other was too much! I've always liked the idea of keeping them together in one room, but what are the options for beds in shared rooms?
*This post contains affiliate links. This means I may get a commission if you decide to purchase one of the products I link to. For more information, read my Privacy Policy*
---
Beds in Shared Rooms: Bunk Beds
The obvious answer to beds in shared rooms is the classic bunk option. I had bunk/cabin beds as a kid and sleeping on the top is so much fun. It feels like your own little den!
Pros of Bunk Beds:
Space saving;
Sleeping on top is awesome;
You can come up with fun ways of climbing up and down;
Cons of Bunk Beds:
Sleeping on the bottom is generally considered inferior to the top… cue arguments;
Young children may not be safe up top;
Changing sheets on the top is not fun;
You've got to love the double bunks in this Florida home by interior designer Andrew Howard. That slide is awesome! If you're looking to buy bunks instead of build them, check out my faves in 'How to Choose the Perfect Bunk Beds'.
Beds in Shared Rooms: Corner Junction Beds
Fitting the beds neatly into the corner is an idea I am very fond of. I like the idea of the boys' telling each other stories at night, their heads close enough to hear a whisper but without being in direct eye contact.
This traditionally styled Belden Bedroom Set by Pottery Barn Kids is perfect. However, the price tag is a little steep. Still, I love the layout and the storage drawers below, and I am confident in the quality of Pottery Barn products.
Pros of Corner Junction Beds:
Bedtime stories made easy;
The corner junction creates a handy shelf;
Everyone is close to the ground;
Cons of Corner Junction Beds:
Your room has to be deep enough for the length of the bed and the corner unit;
Is anyone else seeing that pointy corner right next to the pillows? Paranoid Mom?
For a stripped back, more affordable option, this NE Kids L-Shaped Bed will do the trick. They also offer options with storage and a trundle bed but it all adds to the price and you end up back at Pottery Barn budget.
If you love this look and enjoy a bit of DIY there is plenty of inspiration out there to get the power tools excited. Take a look at Ana White's 'Corner Hutch Plans', it's certainly inspiring me… I love a project!
Beds in Shared Rooms: End to End
If you've got the length on one wall, there's something very sweet about end to end beds. If the Twins are getting along they can lay pillow to pillow, and when they've had a little sibling feud they can just swap to the other end.
Pros of End to End:
Siblings can choose to be close or not;
Everyone is close to the ground;
Cons of End to End:
Without a headboard there could be pillow breach in the middle;
Many bedrooms will not be long enough for this layout;
You can push traditional beds together end to end but I rather like this shared platform. I'm presuming that's storage underneath too, perfect!
If you can't quite make the length for two beds end to end you can cheat and build a little overlap like the beds above. Little ones won't notice the loss in bed length and the raised loft bed will always be a hit!
Beds in Shared Rooms: Interlocking
To squeeze the corner set up into a slightly smaller space, there are a number of options to interlock them. You can overlap an upper bunk, or wrap around the corner of the room. It's a space saver, without going full bunk.
I wanted to include a set up that wasn't in the corner… it's not the only option! Love this design from Christopher Burns Interiors. More space to move about underneath but the perfect hideout spot up top!
Pros of Interlocking Beds:
Relatively space saving;
Would work at any height;
Cons of Interlocking Beds:
One bed could end up superior to the other;
Changing sheets could be awkward;
Beds in Shared Rooms: Traditional Twin Beds
Of course there's the obvious solution of buying two twin beds and placing them on opposite sides of the room. Don't knock it, sometimes simple is best.
Pros of Traditional Twin Beds:
Plenty of choice (no DIY required);
Feeling of ownership and privacy;
Cons of Traditional Twin Beds:
Can look like a dormitory;
Direct eye contact may not help littles to sleep;
Four Cheeky Monkeys nails it everytime, I just love Vanessa's style.
Where to go from here…
I can't wait to get stuck into the design of the boys room and will keep you up to date on it's progress. Once I've made a decision about the layout and position of the beds, I know the rest will just fall into place. My biggest problem is the boys will likely be very young (pre 2yrs) when they move into their big boy room so safety is a major factor. I also want to make it fun, because if you can't have fun with a kids room, where can you?
Just to finish, I wanted to share this gorgeous triple bed set up in Atlanta. It's a custom piece and so much fun!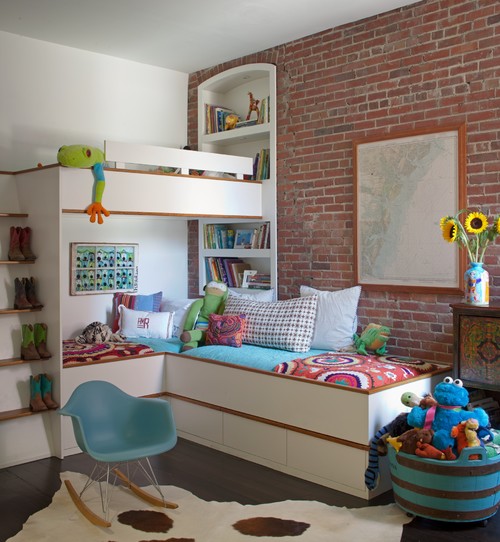 To be continued… do give me your thoughts on what I should do, I'd love the blog to help shape the boys' new room!