You may have heard of the Hygge home decor trend that is sweeping the globe, after it burst it's borders of origin in Denmark. Although Hygge loosely translates as 'coziness', there is much more to it than that; so if we want to get the look and feel right, we need to understand more about what it means and what it's trying to achieve. And as we all look forward to the Spring arriving, are we just going to pack away all our Hygge? No, because Hygge home decor is for all seasons. Read on to find out why…
** This post contains affiliate links**
What is Hygge?
Scandinavian style has been huge for some time, and although we all still love it, we're starting to want a bit for warmth to our spaces. In 'Home Design Trends 2017' I mentioned that pure whites are on the out, and warmer colors and textures are on the rise. I also noted 'coziness' as a trend for the year, so what does this look like and how do we get a piece of it? Hygge is considered by the Danes as more of a philosophy than a style, because the Hygge way of living describes relaxation and warmth, family, conversation with friends, and that fuzzy comforting feeling inside. It's an atmosphere worth a fortune if only you could bottle it. Hygge is about slowing down the pace and enjoying the moment; and it's said that the Danes are happier nation because of it. Who wouldn't want a piece of that, it sounds marvelous.
Hygge Home Decor
I can't deliver friends, family, love and cheer to your home, I wish I could. However, I can help you enhance your Hygge home decor with some inspirational spaces and small details to bring some of atmosphere into your home. Although we can all envisage curling up with a loved one next to an open fire in the winter, getting that Hygge feeling in the summer may not be so simple. So I'm bringing to you a Hygge home decor style that works for every season, I hope they bring you a case of the fuzzier…
Winter
For winter you've got to look at your bedroom. When it's cold outside there is nothing better than getting into your PJs and snuggling up under a cozy duvet. To maximize the atmosphere of Hygge, think layers, blankets, varied textures and plenty of scatter cushions. You're after chunky knits, faux furs, and a little pattern too. You want your bed to look so comfy, you wish your arms were long enough to wrap around and give it a big hug. In fact, I might have to change the official translation of Hygge from coziness to hug. It's so much more appropriate.
The bedroom shown above is the face of lifestyle blog 'My Scandinavian Home'. I love the layering and the hints of fur, and the warmth of the rustic wood to tone down all that white. Mix up with furs with other textures like corduroy or a chunky knitted blanket, the ultimate Hygge accessory. I've got my eye on the one shown below from Ugg. We all know how cozy their boots are… put it in a blanket and what have you got? Hygge.
Get the Look:
Spring
For Spring we are going to the Lounge. As the sun comes out we're ready to escape from beneath the blankets and start to socialize. To inspire a feeling of Hygge, we need to create spaces that can easily, yet casually invite family and friends to perch and chat. Comfy spots to drink tea and catch up on the latest news, without the formality of a three piece suite. Ottomans, bean bags, scattered chairs and cushions, all invite people to linger, relax and share.
This is the LA Headquarters of lifestyle blog Sincerely Jules. The different seating options allow this social space to stay casual, and I chose this look for Spring because I just adore these hanging basket chairs. They feel really outdoorsy, and with the planting in the background I am feeling some major Spring Hygge. If hanging a chair from your ceiling seems a little too much to take on, there are alternatives. How about a banana leaf ottoman that can easily be tucked out of the way, or this fantastic orinoco rocking chair.
Get the Look:
Summer:
Time to bust open those doors and bring the inside out. Take every opportunity you can to eat outside in the summer, and soak up some serious Hygge with family and friends. Let the evenings get long, and make the most of the season by lighting up the perfect spot in your garden or terrace. Candles are not just for winter, so look out for lanterns and candlesticks you can bring to the table for intimate ambience.
Despite trying, I do not know to credit for this fantastic space, it really sums up summertime Hygge for me. Clusters of hanging bulbs, miss matched chairs that look like someone's had to grab one from inside to fit an extra seat at the table. Scattered flowers, candles and pots. Even the cabinet brings the perfect welcome to to this space, which oozes Hygge home decor without looking so obviously Scandinavian. Go on, give summer a hug.
Get the Look:
Fall
Long walks, leaves falling and a bubble bath at the end of the day. For bathrooms it's about the cozy details – a little wood, plants, candles, and don't be afraid to bring some fabrics into the bathroom to warm things up. Take your time, pamper yourself, enjoy the moment and soak up the Hygge.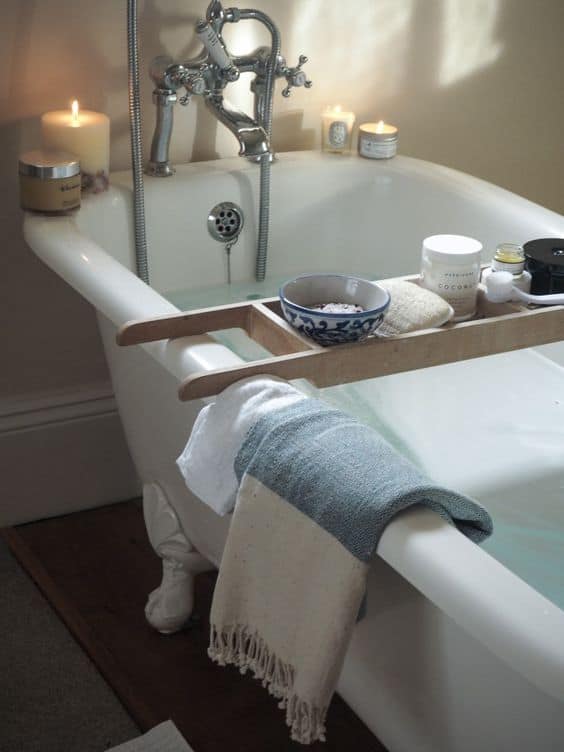 This little snippet of bathroom Hygge is courtesy of Lucy Williams of Fashion Me Now, and her Ultimate Bath Recipe. My bath is seriously lacking in luxury at the moment, so a design intervention will be happening at some point. Watch this space…
Get the Look:
** This post contains affiliate links**
---
I don't know about you, but I'm feeling pretty warm and cosy from from all this Hygge. I hope you enjoyed it as much as I did.

---