Following on from my Spiced Vegetable Croquettes recipe, I continue my quest to come up with healthy, adventurous foods the Twins can feed themselves. They are 11 months old now and really aren't interested in being fed by Mom, yet I'm trying to continue the balanced diet they used to get from homemade purees. These baby baked falafel are delicious and I'm so pleased my boys are enjoying them.
Beans are the perfect source of protein, especially because as a household we are trying to cut down on meat consumption. I am also keen on introducing them to herbs and spices, and what better to do it than this Middle-Eastern classic – Falafel.
Why I've Broken the Falafel Rules
I may be upsetting many an Israeli falafel lover here because traditionally they should be made with dried chickpeas. They should also be fried in oil to give that crispy on the outside, fluffy in the middle texture. I apologize in advance because I've gone rogue… It can be difficult to find dried chickpeas in your local grocery store, and they also have to be soaked overnight before you can use them. So if you're prepared and organized, go with dried, but if you have three children and a time management problem, buy canned.
Cooking Baby Baked Falafel
Making homemade falafel is really simple, and like most things, I make extra and then heat them up for the following couple of days. I tried frying them but because they are smaller than traditional falafel they soaked up a lot of oil and were too greasy. I tasted both the fried and the oven baked and I genuinely favor the baked, hence the recipe below. I'm happier offering baked goods over fried to the babies anyway; the Twins really enjoy making a mess while dipping into yogurt!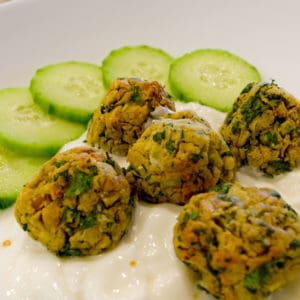 Baked Baby Falafel
2016-10-13 17:58:44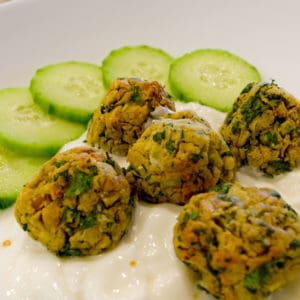 A Middle-Eastern classic made a little easier and healthier for moms and babies alike.
Ingredients
2 (15oz) cans of chickpeas
1/2 an onion
6 cloves of garlic
1/2 cup fresh parsley
1/2 cup fresh cilantro
1 tsp ground coriander
1 tsp ground cumin
4 tbs flour
1 tsp baking powder
1/2 tsp salt (optional)
1 tbs olive oil (optional)
Plain Greek yogurt & cucumber to serve
Instructions
Preheat the oven to 400°F. Finely chop the onion, garlic, parsley and cilantro.
Drain and rinse the chickpeas and place into a food processor with the chopped veg, flour, baking powder, herbs and spices. Add a little salt if you wish.
Pulse the ingredients in the food processor. You're aiming to break the chickpeas up, without turning them into a paste.
Using your hands, roll the mixture into balls of around 1-1.5 inches in diameter.
To give just a little crisp to the outside and stop them drying out, roll the falafel in a tbs of olive oil on a plate. Alternatively you could lightly spray with oil or just leave them bare - they will still be delicious!
Place the falafel onto a lined tray and bake for 40mins, turning at half time.
Serve on top of Greek yogurt with a side of cucumber.
Notes
Instead of plain yogurt and sliced cucumber, you could go all out and make Tzatziki, yum. What can I say... I'm a busy woman and it just didn't happen this time! Enjoy snacking on your baby's food 😉
TwinPickle https://twinpickle.com/
The only trouble with baby/toddler finger food is… the bite-sized nature means you can always eat just one more!