If your little ones are lucky enough to have a playroom (or a designated space for toys and activities) there are three key factors you will want to take into account: toy storage, activity spaces, and last but by no means least… the fun factor. After all, if your kids don't love being in their playroom, they will just bring their toys somewhere else, likely under your feet. Here is an essential guide to create the ultimate playroom…
There are many little things that come together to create the ultimate playroom. You may not be able to do all of them, but hopefully, I can inspire you to give a few of them a go.
10 essential components to create the ultimate playroom:
This post contains affiliate links. This means I may get a commission if you decide to purchase one of the products or services I link to. For more information, read my Privacy Policy
1. Fun Wall Decor:
Photo by Lucy Interior Design – Search kids' room pictures
I'm loving this multi-colored wall! The gorgeous wallpaper by Bien Fait is not in everyone's budget, but you could paint it as a mural if you have a little time on your hands. I put together a triangular mural for the twins' bedroom, see my IKEA Kallax hack closet makeover for a how-to video and the final result.
Check out the polka dots when you scroll down to 'comfy seating' below… some simple decals could be for you if wallpapering and murals seem too much work.
And here are my favorite picks from Etsy if you want to get the look in your own playroom:
---
2. Comfy Seating
Photo by Chango & Co. – Search kids' room pictures
Continuing the polka dot decals across the ceiling gives this room a 'play den' feel. And the floor cushions are perfect for all the headstands and acrobatics that kids enjoy. If you want to snoop more at this lovely Connecticut home, head over to Architectural Digest for a tour.
Load your playroom up with bean bags, giant floor cushions and any other building blocks for homemade forts and gymnastics! My favorite floor cushions come from Urban Outfitters… check out my picks below:
---
3. Practical Storage
Photo by Kropat Interior Design – Look for kids' room design inspiration
If there's going to be toys… there needs to be storage. Whether you go for cabinets with doors or open shelving, you're probably going to want to separate toys into storage boxes so they are easy to access for those little ones. The IKEA Kallax system shown on the left above is a playroom staple, and there are so many different types of boxes to fit these now.
Our Kallax system houses 3 Sprouts Storage Boxes (shown below/right). I am crazy for the whole 3 Sprouts range and their boxes are adorable. I also love these cute personalized storage boxes on casters from Etsy (shown left below)… it was difficult to pick my favorite design of theirs to feature!
---
4. Art Wall
Photo by Maison Design+Build – Look for kids' room pictures
Kids adore having their artwork on display, and it's a good idea to have an easy way to change up the display themselves. Either hang pictures from clips like the room above or try fixing open frames to the wall. Multipacks of clipboards are amazing value too…
---
5. Clever Storage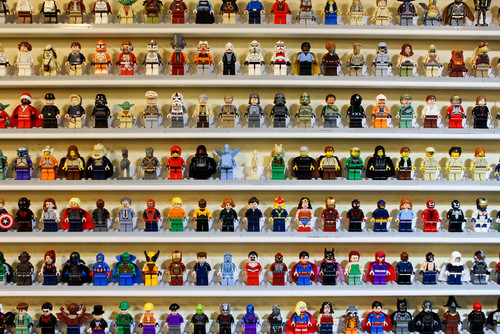 Photo by Caela McKeever – Look for home design inspiration
So we're not all ready to line up Lego people (I'm pretty sure ours are all missing heads anyway and that could look pretty grim…), but toys can make great displays! Get creative with some bespoke storage for particular toys… If you're swimming in Barbies, go check out this fun idea from Chatelaine, the Barbies are hanging out in a fabric shoe organizer… genius. If you're struggling with a place for those Matchbox cars and toy trains, try using those magnetic strips used to hold kitchen knives!
What about all those soft toys? These 'bean bag' soft toys storage bags keep things tidy and create some comfy seating all at the same time…
---
6. In-House Gym
Photo by Carl Wooley – More kids' room photos
Now here's where it gets serious, I did say we were aiming to create the ultimate playroom, didn't I? When I was looking at beds in shared kids' rooms, we touched on a couple of wacky ideas, but a climbing wall or a rope swing inside the house? Go on… I dare you! The jungle gym playroom above is the work of Carl Wooley, and the rope swings below are from Brooklyn based designers Chango & Co.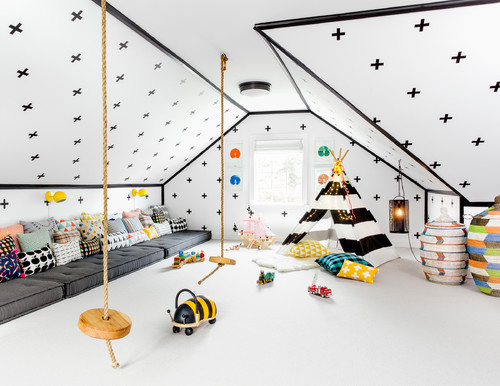 Photo by Chango & Co. – Browse kids' room photos
---
7. Activity Table
Photo by DHD Architecture and Interior Design – Look for kids' room design inspiration
Back to basics here… somewhere to sit or kneel, build, play and draw. Pinterest is full of 'Ikea Hacks' for lego tables, using various bits of bargain furniture. But if you can't face the DIY, I love this ready made Lego table on Etsy (shown below left).
We have the Melissa & Doug Activity Table shown on the right because it was the biggest, cheapest table I could find. It's the perfect height and the lip around the edge stops lego falling off. We keep the lego manuals in the drawer at the front!
---
8. Forts & Tents
Photo by TASARIM PERDE VE DEKORASYON SAN. TIC. LTD. STI – More kids' room ideas
To create the ultimate playroom you have to be able to hang out in a fort/cubby/playhouse/tent/base. We all built forts out of sofa cushions didn't we? So give them supplies to build their own, or buy them a little teepee to play with… they look adorable and don't take up much space at all. I have a whole post dedicated to my favorite play tents available to buy online and in store >> here.
---
9. Dress Up Station
Photo by Liz Carroll Interiors – More kids' room ideas
If you want to go all out, accompany your dress-up station with a stage or performance space like the adorable playroom above. A hanging rail or hooks on the wall will allow your little ones the independence to dress up and role play as much as they like! For some sweet DIY dressing up rail projects, head over to the Rogue Engineer or this cute project from Lay Baby Lay.
My ready to go dress up station picks:
---
10. Reading Nook
Photo by Hide & Sleep Interior Design – More kids' room ideas
Whatever size your play space, you'll likely have some books to store. Don't put them in boxes, get them on the wall or displayed in an easy to reach bookcase. Kids love to help themselves to books, so give them a little coziness to enjoy a good read.
I very nearly splashed out on a Pottery Barn Kids Madison book rack (below left) for our playroom, because they look fantastic and I actually don't think it's badly priced for the quality. However, I do love a bargain and ended up going with the KidKraft Sling Book Shelf instead, it's fab!
---
Are you feeling ready to create the ultimate playroom? Of course, if you've already done all of the above, you could always incorporate:
A slide;
A role play shop;
A train set that circulates the room;
A basketball court;
A jumbo jet;
I'm just saying… you can always go one step further 😉
---
And if you're interested in starting your own blog check out my Blog Startup Guide!
---