It's the weekend and Elsie's in the mood for chocolate cake. Who am I to deny her an opportunity to work on her baking skills? And I suppose I'll have to help her eat it too… tough times. This decadent chocolate fudge cake contains A LOT of chocolate, while being extremely moist and messy. I recommend you get on board and make yourself one immediately, and serve with fresh strawberries. This level of decadence is made for strawberries… yum.
Elsie was a little disappointed we didn't get to film her valentine's cookies, so this weekend Mom the camera woman and Mom the kitchen assistant were re-employed, and Elsie got busy in the kitchen… enjoy!
This really is a fantastic cake… if you missed Elsie's fabulous instructions, here's the full recipe:
Decadent Chocolate Fudge Cake
2017-02-12 17:53:08
Serves 12
Rich and decadent cake for the true chocolate lover.
Cake Ingredients
7 oz dark chocolate
7oz butter
½ cup water
¾ cup self rising flour
¼ tsp baking soda
¼ cup brown sugar
½ cup white sugar
¼ cup cocoa powder
3 eggs
⅓ cup buttermilk
Ganache Ingredients
1¼ cup heavy whipping cream
2 tbsp sugar
7 oz dark chocolate
Cake Method
Preheat the oven to 300°F and grease an 8 inch cake tin.
Break up the chocolate in a bowl. Melt and stir together with the butter and water. This can be on the stove or in the microwave. Set aside.
Mix the flour, baking soda, sugars and cocoa powder together in a large bowl. Set aside.
Beat 3 eggs together with the buttermilk.
Pour the chocolate mixture and the egg mixture into the flour mix. Stir until combined.
Pour into the cake tin and bake for 1 hr 15mins.
Allow the cake to cool before slicing into two parts for frosting.
Ganache Method
Heat the cream together with the sugar in a pan but do not boil.
Break up the chocolate in a bowl and pour over most of the cream mix. Keep stirring and adding until the chocolate is melted and the ganache is a good consistency for spreading.
Cover one of the cake layers in ganache and sandwich back together.
Cover the the cake in ganache and decorate as you wish.
Notes
Serve with fresh strawberries.
TwinPickle https://twinpickle.com/
And in case you're not totally sold yet, here are a couple more photos to get your mouth watering!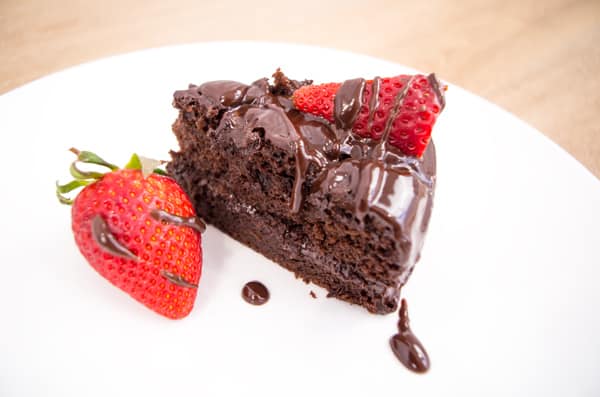 Get baking and tell me what you think!

---
Related posts:
Chewy Chocolate Chip Cookies: Elsie in the Kitchen
Elsie's Madeira Cake
Elsie's Chocolate Chip Cupcakes