I have been browsing hanging house plant ideas on Pinterest long enough… it's time to do something about it. Maybe you, like me, are looking to add more green to your home in 2017? You may also have small children and animals that like to dig, chew and knock stuff over. It's a problem, and the best way I can see to overcome it is to avoid large pots on the floor and stick to hanging hanging house plant ideas.
I'm making a new year resolution to try and keep some plants alive, something I don't have the best history with. I'm also trying to bring some more style and warmth into our home that's feeling a little unfinished. So before I get stuck into another baby naptime makeover, let me share with you some of my favorite hanging house plant ideas.
---
Hanging House Plant Ideas
Glass Terraniums
These hanging glass terrariums are all the rage at the moment so you can get them from a number of different mainstream stores and even buy them ready filled on Etsy.
Hanging Pots on the Wall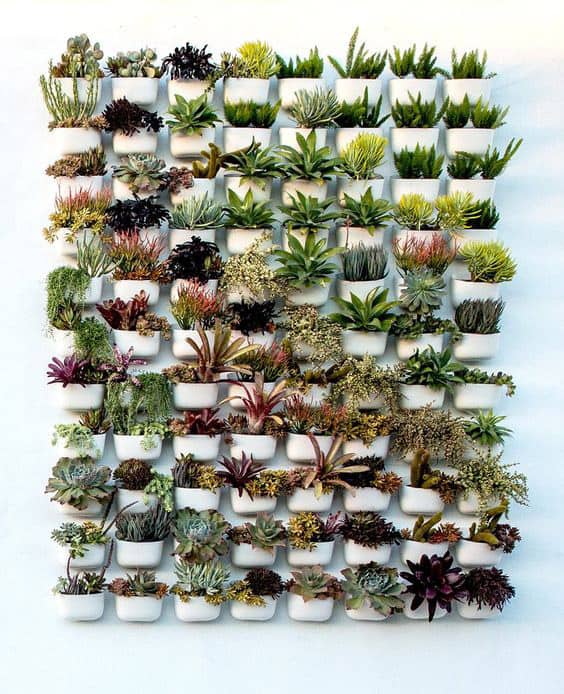 Made from recycled milk jugs, these 'living wall planters' are self watering and are perforated with air vents. The fantastic plant arrangement was designed by plant artists at Tend Living, and I think it's just perfect. More on the design, with tips and tricks for creating something similar over at San Diego based Pigment.
Macrame Hangers
Whether you make them yourself or buy in the skills of someone else, there are endless unique designs for macrame hangers. I love the warmth of the crafted look, and particularly enjoy the bronze beads and the dip dyed ends on the centre pot. These particular delights are available as DIY kits or made to order from Casulo, the online shop of Spanish blogger Ana at Tapas na Lingua.
Mason Jar Stacked Hanger
Is there anything you can't do with a mason jar? Designer Susie Frazier has come up with yet another use for them here with this suspended vertical shelf using metal rods and small pieces of wood. More about Suzie and her 'Earthminded Style Tips' here.
For the Adventurous…
I just love this image. It has a kind of modern Hobbit feel about it. I found this idea at Dutch design blog/shop vtwonen. As the site is written in Dutch, I used my best Google translate skills to find out how we go about creating such a masterpiece…
"Remove the plant from its pot and loosen the soil around the roots around. Then tie a big lump of damp moss with wire around the roots and hang the tree with sturdy rope to the ceiling."
It's a simple as that, apparently. Go on, I dare you… and send me a pic of the tree, and the carpet below one week later.
For the Traditionalist…
Hanging baskets… they've been around for years. No need to invent the wheel, just do it really really well. That's what Korean floral designer Wona Bae is doing at her workshop in Collingwood, Australia. Wona describes Loose Leaf's studio space as "a jungle of plants suspended from the walls and ceiling" in her interview with The Design Files.
---
Naptime Makeover: Hanging Plant Ideas
I've got to say this has been the most fiddly makeover to date. In principle the idea was simple, in reality it was one of those projects that involved going back to the Home Depot three times and calling in a lot of man strength help from Husband. Did it fit into naptime? No. Would it have fit into nap time if I had all the materials and equipment ready when I started? Maybe. Nevertheless, I am super excited about it because it turned out even better than imagined. I keep stopping and staring at it as I pass by the kitchen…
For instructions on how to build what I'm calling the 'Coffee Cup Hanging Planter' visit my other post from today.
---
If you missed my other naptime makeovers, take a look at:
Accent Wall Ideas
How to Arrange Pictures Creatively
Modern Interior Door Handles