Modern interior door handles – sleek, sexy, cool – everything my current door handles are not. My home was built in 1987 and I am unsure whether my existing handles are original to the house or lovingly installed sometime in the 90's. Either way, cheap faux bronze with a Celtic twist is not a good look in 2017. It's one of my interior design pet hates- bad door handles – so today we're going to sift through some serious hardware porn and get the creative juices flowing.
Where do you start if you are wanting some modern interior door handles? I started by doing what most people might do… I went to the Home Depot for a browse of the door hardware isle. I'll save you the trip, the selection is awful. I'm pretty sure they haven't updated their shelf stock since my faux bronze Celtic numbers were on sale. They have a much better selection online but if you're going to shop online we might as well do this properly… Let's see what's really out there:
Modern Interior Door Handles:
Brushed Brass:
Brass may be what you're replacing, but don't underestimate the available designs in this finish. A high quality brass fitting will bring warmth and class to your home, and with all the mid century brass light fittings and lamps around, why not keep up to date with your door handles too? I've picked out this beautiful handle from Japanese architect Uno Tomoaki. For more of his bespoke hardware designs check out this article on minimalist glamour from Remodelista.
Crystal Knob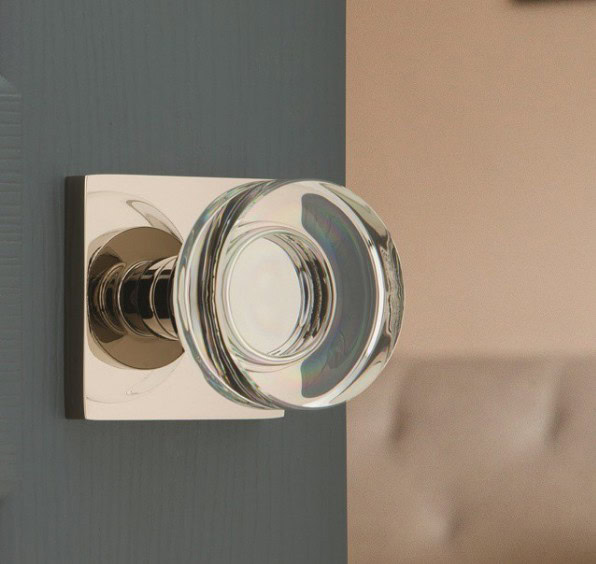 I few years ago I would have never considered installing crystal knobs on my doors. But with the explosion of the Art Deco revival, those glass fixtures are back on trend. The simplicity of this 'Modern Disc Crystal Knob' with square rosette from Emtek is perfection.
Stainless Steel:
You can't go too wrong with stainless steel hardware. It's what people expect to see in an updated home, and there is a vast selection of modern interior door handles in brushed and polished finishes. I particular love this design by MAD Architects, based on the design of their Canadian skyscapers. More on that here at Dezeen.
Matt Black
The Thor Square handle is oozing bachelor pad to me. Boys, you're going to feel like a real man grasping the 'Thor',.. I can't help myself, apologies. Aside from Thor, I'm a fan of the matt black finish because it's modern, yet works with a farmhouse style too. I see it as an upgrade on the ever popular antique bronze finish. It's also suggestive of all the dark iron details you see in industrial loft apartments, so it pretty much works anywhere!
Wooden
Mary & Jeff of ModKnobs say "Down with lame door knobs", and I'm totally with them. This delightful walnut knob is the tame option… ModKnobs make these in rubber in a spectrum of colors! You just have to see them, they were featured here at Better Living Through Design.
Something with Flair
Let's not play it too safe… If you have a super cool oversized white washed apartment, these handles are perfect for you. The '066' handle designed by Architect Sergio Asti is featured in the MoMA Museum of Modern Art. Go on, you know you want them.
And maybe just one more…
Proving stainless steel still looks great polished, the 'H5023 ViceVersa' is designed by Italian Architect Cini Boeri. It's playful yet simple; modern with a touch of mid century retro. When I win the lottery, I think I might fill my swanky pad with these.
Naptime Makeover:
Modern Interior Door Handles
Going from the large scale last week with 'Accent Wall Ideas', I figured I had it easy this week. "I'm just going to swap a door handle" I thought. However, I did decide to go with the matt black finish, which meant the existing hinges didn't match. I considered replacing the hinges with new black ones, but what a waste when I have perfectly good hinges already. So I sprayed them, it worked a dream, and will save me a bunch of cash as I work my way round the house replacing the others.
So… here we go, it's time to get some modern interior door handles for myself:
I went for the Schlage F10 V LAT 622
which I consider modern, affordable, yet fairly classic in it's shape.
I'm pretty pleased with it… what do you think?
---
If you missed my other naptime makeovers, take a look at:
Accent Wall Ideas
How to Arrange Pictures Creatively