Identical twins form when a single zygote (fertilized egg) splits into two, creating a natural clone. There is no sure answer as to why monozygotic twinning occurs, but there are a number of scientific theories. What causes identical twins? Why does the fertilized egg split?
Like all wonderful outstanding questions, there are plenty of scientists trying to figure it out. These guys are busy studying the exact moment the egg begins to split to form twins. They are considering environmental factors, and unusual occurrences of repeat identical twins. This article is a thorough look at monozygotic twinning and what causes it:
What Causes Indentical Twins?
This article shares a number of scientific theories as to what causes a fertilized egg to split and create monozygotic twins. But before the theories, let's a quick fact check on what we do know. The mechanics of what happens after the zygote starts to split.
How Monozygotic (Identical) Twins Form
Unlike fraternal twins (which come from the fertilization of two eggs), identical twins are formed when a single zygote splits into two. This natural cloning process will happen at some point in the first ten days after fertilization. The exact moment the embryos split varies, creating different 'types' of identical twins.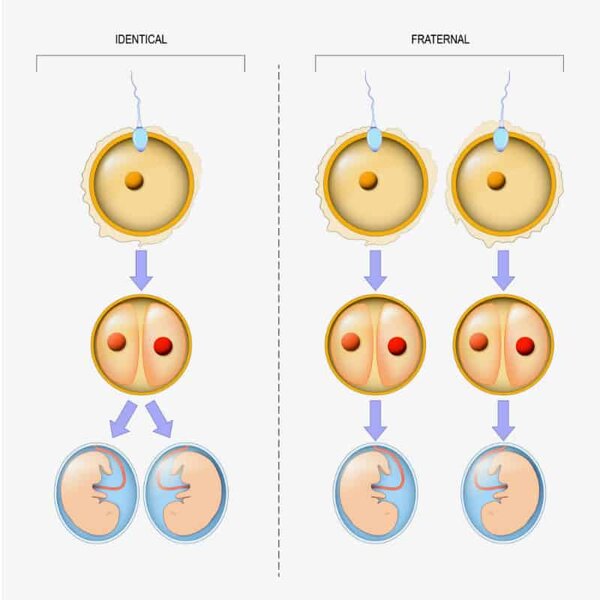 Different Types of Identical Twins:
Dichorionic/Diamniotic (Di/Di) Identical Twins
If the fertilized egg splits early, in day 1 after fertilization, the twins will form separate placentas and amniotic sacs. This type of identical twins are medically called Dichorionic/Diamniotic (di/di) twins.
A routine ultrasound will not be able to identify these twins as identical, because just like fraternal twins, they each have their own placenta. It is believed that one third of identical twins are Di/Di twins and they are often misdiagnosed as fraternal twins by doctors. Only a zygosity DNA test can confirm these twins as identical.
Just to make your head spin, it is also possible for two placentas to fuse together, usually in the second trimester. This means, fraternal twins can also be wrongly identified as identical twins, especially if a first trimester ultrasound is not performed.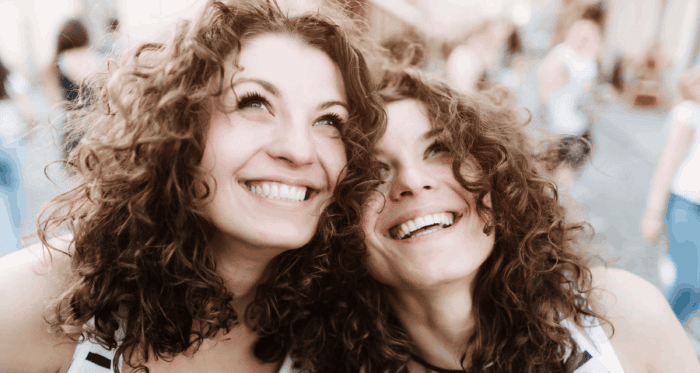 Monochorionic-Diamniotic (Mono/Di or Mo/Di) Identical Twins
Most commonly, the egg will split around 4-5 days after fertilization. In this scenario, the identical twins have time to form separate sacs but will end up sharing a placenta. These, the most common type of identical twins are called Monochorionic-Diamniotic (mono/di) twins.
Monochorionic-Monoamniotic (Mono/Mono or Mo/Mo) Twins
1% of the time, the egg splits around day 9-10 after fertilization. This means the babies will share a sac and a placenta. Monochorionic-Monoamniotic twins are sometimes 'mirror twins', causing quirks such as first teeth cropping up on opposite sides of the mouth, and in some cases, even internal organ positions are mirrored.
Interesting, Mono/Mono twins are more likely to be female. The later the zygote splits, the higher chance the babies will be born female.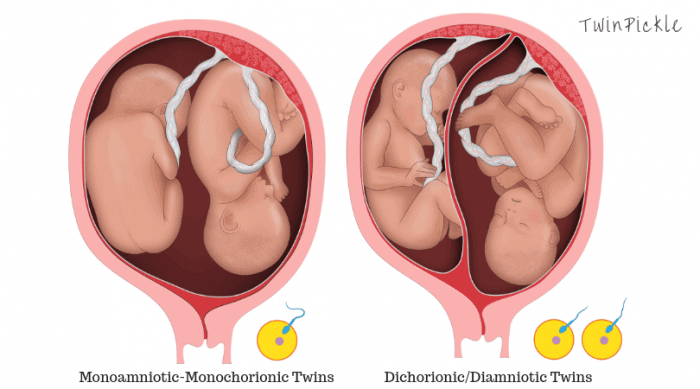 Conjoined Twins
Very rarely, the zygote splits around day 13-15, making it impossible for the twins to separate fully. This causes the babies to be born conjoined. 75% of conjoined twins are female.
As a slight curve ball, there have also been a handful of cases of 'semi-identical twins', which are thought to occur due to simultaneous fertilization of the egg by two sperm.
The Embryo Splitting Process:
After a human egg is fertilized, the zygote 'collapses' and expands a number of times as the cells multiply. It's during one of these 'collapses' that the magic moment happens. During a collapse, the cells contained in the embryo divide into two groups, allowing two separate embryos to 'hatch' from the protective outer layer of what is now called the blastocyst. These two matching balls of cells keep dividing and multiplying to create two separate, yet identical, babies.
Unusual Twinning Events Being Studied
'Twin Towns'
The Village of Umri, Allahabad, in North-East India is just one of a number of 'twin towns'. For the past 40years, Allahabad has experienced an unusually high number of identical twin births. Locals believe the local water or soil could be the cause, because they claim animals such as buffalo are also affected by the phenomenon.
Umri, with a population of fewer than 900, stands out for a unique biological phenomenon: it has had, by local acc­ounts, 35-40 pairs of identical twins in the past few decades.

Ahmad, S. Village Of Twins In Uttar Pradesh. April 2019. Outlook India.
Scientists are yet to find any environmental or social oddities in Umri, and DNA from the town's twins has not given much insight either. Most researchers have written off the theory of twin towns as no more than a statistical fluke. Another twin town, Linha São Pedro in Brazil, reported in the 1990's that 5% of births were identical twins… that's quite the fluke.
The Nine-Banded Armadillo
Nine-banded armadillos almost always give birth to four identical quadruplets. These quadruplets are created from one single fertilized egg that splits to form twins and then each twin splits again. Some scientists believe this to be an evolutionary result of the physical constraints imposed by the shape of the armadillo's uterus or limited sperm.
"Polyembryony might be favored as a means of increasing the number of off- spring when sperm are limited or there are constraints on the production of eggs or embryos by females."

Loughry et all. Polyembryony in Armadillos. 1998. Valdosta State University.
While it may be an evolutionary advantage for the Armadillo, twinning of embryos in humans is considered by scientists as more of a pregnancy fail. Twin pregnancy holds higher risks of congenital anomalies, premature birth and low birth rate. Still, the armadillo has been doing pretty well from it because they've been around for 50 millions years.
Identical Twins and IVF
When receiving IVF treatment, the chances of having identical twins rises from 0.3% to 2%. Even when only one embryo is implanted there is a 2% chance it will divide and create two identical babies.
There is no single reason why chance of embryo division is higher, but subtle differences between the lab and the human body are causing a higher rate of twinning. Some suggest the ovulation induction process may lead to a hardening of the zone pellucida (the egg coat), making it more likely to split. Some researchers believe maturing of the blastocyst before transfer causes the split.
Either way, IVF can trigger a spontaneous twinning event, and often cases of IVF triplets are those where only two embryos were implanted. One embryo splits, the other doesn't, creating an identical pair and a fraternal twin to go with.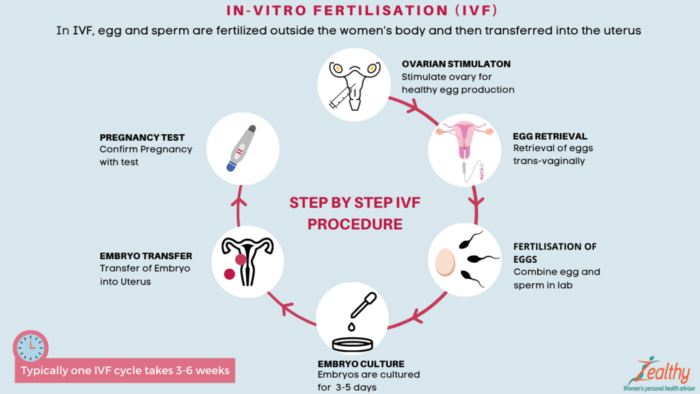 https://zealthy.in/en, CC BY-SA 4.0, via Wikimedia Commons
Scientific Theories for Why the Fertilized Egg Splits to form Identical Twins
We've looked at when it happens, but what scientific theories are out there for why identical twins develop from one fertilised egg?
Previously, it was thought that MZ twinning was some sort of embryological fluke. However, familial monozygotic twinning is more common than suggested by the literature.

Machin, G. 2009. Non-identical monozygotic twins, intermediate twin types, zygosity testing, and the non-random nature of monozygotic twinning: a review.
Do Inherited Gene Mutations Cause Monozygotic Twinning?
Dr Bruno Reversade is one scientist who has been busy investigating variations in the genomes of families from 'twin towns'. Although monozygotic (identical) twinning doesn't seem to vary by geography or ethnicity, there are small pockets of increased twinning activity. These 'twin towns' are relatively isolated with a small breeding pool, allowing the mystery 'twinning gene' to be passed on in abundance.
It seems that the genes belong to the ELA (equine lymphocyte antigen) gene system may tell us something about how can run in families.

Segal, N. Twin Mythconceptions: False Beliefs, Fables, and Facts about Twins. 2017.
Dr Reversade has a candidate region, on chromosome four, and he thinks mutations in a gene here might have been present in the founders of twin towns before spreading through the population. He speculates that the mutated gene might prevent cells sticking together tightly within the blastocyst, resulting in a split.
Dr Dianna Payne thinks the imperfect environment of the IVF lab is causing some cells to die or weaken at the cell junctions. This leads to the idea that a similar process could be caused in naturally conceived embryos. A mutated gene could cause weakened cells in a collapsing blastocyst (ball of cells formed as the fertilized egg grows), triggering a twinning event. It is also possible that subtle differences in the cells could force cells to repel one another, pushing two separated groups of cells to opposite sides of the blastocyst.
Does an Enzyme in Sperm Cause Identical Twins?
There is a popular theory (although I have struggled to find any scientific sources) that an enzyme in sperm causes the embryo to split. Many families with twins claim they have an abnormal number of identical twins in their family tree, despite being told it's a random event. Twin dads like to consider themselves carriers of super sperm… maybe they're right?
Does X-Chromosome Inactivation Trigger Monozygotic Twinning?
Before female embryos implant into the uterus, one of the two X-chromomosones inside every cell (except the egg cells) is randomly and permanently inactivated. Which X-chromosone is inactivated is mostly random, but studies of some women have shown skewed x-inactivation. This means the same X-Chromosome in nearly all cells is deactivated, suggesting some kind of defected or mutated gene event.
It has been suggested by many that skewed X-Chromosome inactivation could cause monozygotic (MZ) twinning, explaining why Mono/Mono twins are more likely to be female.
X-inactivation does not explain all female monozygote twinning, but could be responsible for the excess of MZ female twins.

Hamamy, H. Monozygotic Twinning.
X-inactivation does not happen to male identical twins, so its definitely not the only cause of identical twinning. This does of course bring to light that there is likely multiple different causes for identical twins.
Are Early Genetic Errors Causing MZ Twinning?
Dr Judith hall claims that monozygotic twinning happens as a natural reaction to genetic errors. The growing embryo 'senses' a genetic error in one or some of the newly formed cells, and pushes them away from the embryo. This normally works perfectly, and the repelled cells are absorbed and no longer multiply. But occasionally the discarded cells make a break for independence, overcome genetic errors, and becomes an identical (yet not so identical) twin.
My hypothesis is that all (monozygotic) twins are not identical," Hall said during a symposium here at the Jackson Laboratory. "Something led to the two separate embryos developing. So we're looking for signs of discordance," genetic differences, "and they are everywhere."

Cooke, R. 1992. Could Early Genetic Errors Cause Twins? LA Times.
Although it is usually said that identical twins have the same DNA, there are very slight differences which can be detected by modern DNA testing. These are caused by genetic mutations and environmental factors, including conditions inside the uterus.
Does the Timing of Conception Cause Identical Twins?
Dr Judith Hall also suggests twinning depends on the timing of fertilization. This would explain why humans produce twins more often than other animals (except the armadillo of course!). Most mammals choose to mate when conditions are perfect, when eggs have been freshly ovulated. Humans on the other hand tend to have sexual intercourse randomly throughout the cycle, meaning there is more chance an older egg will be fertilized.
A fertilized egg that is not in it's 'prime' moment in the cycle may be more likely to have copy errors during growth. Therefore it follows that an egg fertilized later in the cycle is more likely to have early genetic errors causing a twinning event.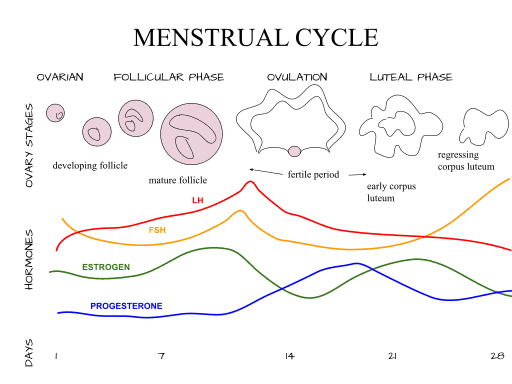 Conclusion: What Causes Identical Twins?
The scientific theories are here for you to come to your own conclusion. Personally I feel very convinced by Judith Halls explanation of early genetic errors. the body has built-in responses to prevent faulty data being copied. And while most of these 'pushed aside' cells never become another baby, occasionally us identical twin moms are blessed with a not-so-faulty second child.
You have to remember that most identical twin embryos just don't make it. In fact it has been suggested that least 50% of twin pregnancy become singleton pregnancies during the first trimester, usually before the first sonogram even identifies twins.
It's a strong theory to suggest monozygotic twinning is a natural process to remove faulty cells. Luckily for me, those faulty cells gave me another son. A beautiful copy of his brother, but to me unique in every way.
---
Related Twin Pickle Posts:
---
Identical Twinning FAQs
What Causes Identical Twins?
Identical twins form when a single zygote (fertilized egg) splits into two. This natural cloning process results in two genetically identical embryos.
When Does the Zygote Split to Form Identical Twins?
The fertilized egg splits in the first 10 days of gestation to create monozygotic twins. Rare late splitting (13-14 days after fertilization) of the blastocyst can lead to conjoined twins.
What Causes the Different Types of Identical Twins?
Whether identical twins share a sac or/and a placenta will depends on when the fertilized egg splits. Most commonly the fertilized egg will split around 4-5 days after fertilization, creating Mo/Di twins.
Why Does the Fertilized Egg Split?
No-one is certain as to why the zygote splits to form twins, but there are some scientific theories. These include ideas about gene mutations, and how long after ovulation the egg is fertilized.
---
References:
Cyranoski, D. (2009, April). Developmental biology: Two by two. Retrieved from: http://www.nature.com/news/2009/090415/full/458826a.html
Study: Identical Twins Caused by 'Embryo Collapse' (2007, July). Retrieved from: http://www.foxnews.com/story/2007/07/05/study-identical-twins-caused-by-embryo-collapse.html
The extraordinary moment one baby becomes two (2007, July). Retrieved from: http://www.dailymail.co.uk/sciencetech/article-465788/The-extraordinary-moment-baby-two.html
Hamamy et al. 2012. Familial Monozygotic Twinning: Report of an Extended Multi-generation Family. Retrieved from: https://www.cambridge.org/core/journals/twin-research-and-human-genetics/
Cook, R. 1992. Could Early Genetic Errors Cause Twins? LA Times. Retrieved from: https://www.latimes.com/archives/la-xpm-1992-11-01-vw-1463-story.html
Stefanescu et al. 2021. Single Fetal Demise in Twin Pregnancy—A Great Concern but Still a Favorable Outcome. https://www.ncbi.nlm.nih.gov/pmc/articles/PMC8161807/